SXU alumna donates sculpture to St. Elizabeth Church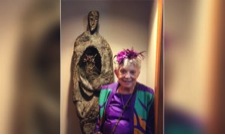 Saint Xavier University (SXU) alumni understand the importance of giving back. This was made all the more apparent when alumna Jean Morman Unsworth selflessly donated one of her sculptures, Sacred Heart, to St. Elizabeth Church in Chicago. Art and spirituality run deep in Unsworth's veins, and her artwork reflects that. Aside from the Sacred Heart sculpture she chose to donate, she has also created stained glass inspired by the gospels and a carved cross.
Her Sacred Heart sculpture is an excellent example of her skillful art and dedicated faith. The heart is meant to be a symbol of Jesus' love, with copper tubing used in the welding process. Her generous gift was welcomed into appreciative arms at the dedication ceremony during the 10 a.m. mass on July 23.
Unsworth graduated from SXU in 1955, and went on to teach art at Mother McAuley Liberal Arts High School from 1956 until 1967. She received her Master of Fine Arts (MFA) from the University Notre Dame, and taught at Loyola University from 1971 to 1987. When the Loyola University Museum of Art (LUMA) opened in 2005, Unsworth was sought out for the board of directors. In the fall of 2016, LUMA honored her by naming an area the Jean Morman Unsworth Art Expressways Gallery.
Unsworth has written books, introduced a master's program for fine arts at Columbia College, and instituted the Children's Museum in Chicago. In April, she was inducted into the McAuley Hall of Honor.
SXU is thrilled to see it alumni sharing their gifts with the community. Thank you for your generosity, Jean!
---