News Alert: SXU alumna gained success against all odds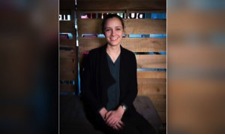 Donata Kalnenaite graduated from Saint Xavier University (SXU) at the age of 19 and later graduate with a law degree from The John Marshall Law School at the age of 22. She has faced a whirlwind and huge obstacles to get where she is today and her road to success was even featured in "Before It's News" December 2016 issue.
Kalnenaite was born in Lithuania and immigrated to the U.S. at the age of 12, without the help of her parents who already resided in the U.S. She initially lived with her mother in New Jersey and then later moved to the south side of Chicago to be with her father. It was particularly difficult for her to get an education, as her parents highly discouraged her from doing so; however, she had a strong will power and she used her difficult childhood as motivation to complete her education and get herself out of such a problematic life.
Today, Kalnenaite works as a professional legal practitioner at Agency Attorneys, a law firm she founded. The law firm specializes in protecting the works of software development firms, marketing agencies and graphic design firms.
SXU would like to congratulate, Kalnenaite on her road to success, as she continues to make her alma mater proud!
---