SXU alumna receives Golden Apple Leadership Award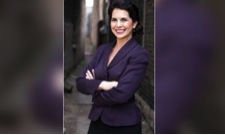 Saint Xavier University (SXU) alumni are known for creating powerful impacts through their acts of service as they carry out the University's mission. Phyllis Cavallone-Jurek, SXU alumna, has proved that a passion for service is a rewarding experience. Cavallone-Jurek is the principal at St. Therese Chinese Catholic School in Chicago. Recently, the Golden Apple Foundation recognized her excellence in stewardship with the Stanley C. Golder Leadership Award. Ms. Cavallone-Jurek was also just named a 2017 National Distinguished Principal by the National Association of Elementary School Principals (NAESP), one of only five private school principals nationwide to receive this coveted award.
Cavallone-Jurek graduated from SXU in 1992 with a degree in education and a minor in mathematics. Then, in 1995, she received her degree in mathematics education. She fondly remembers the days of her clinical work in Chicago schools, which put her on the path for her future success. She has been the principal at St. Therese Chinese Catholic School for 13 years and still holds gratitude for the experience SXU gave her.
"SXU gave me the support and education I needed to become a successful educator in the classroom and beyond. The instructors really cared about us and invested in forming educators of the world. Each professor gave us each something a little different, but they all were very dedicated."
When she began as principal at St. Therese Chinese Catholic School in 2004, the conditions were bleak. Years of underperformance had led to a decrease in student population, and closure seemed imminent; however, with the reigns in her hands, Cavallone-Jurek turned it all around.
The combination of her scholarship, wisdom and compassion has culminated in tremendous success for the school. Now, the school is at full enrollment with a waiting list of families hoping their children will be able to experience a St. Therese education. Test scores have soared to become some of the best in the country, well above national average. St. Therese Chinese Catholic School has received multiple prestigious awards thanks to the transformation.
Despite the prosperity, Cavallone-Jurek remains humble and hardworking. She is even known to serve the school through assisting her colleagues in teaching and maintaining the school.
When asked what advice she had for education students at SXU, she offered what she knows best. "I would recommend students get involved and experience as much as possible in their clinical experiences and beyond. If there is an opportunity to volunteer, tutor, coach, do it! These opportunities provide invaluable experiences, build relationships, and deepen knowledge and wisdom. These will not only help us to persevere when facing challenges, but thrive."
Watch Cavallone-Jurek's Golden Apple Leadership Award acceptance speech, which aired on WTTW Channel 11 on Thursday, June 1. Join us in congratulating Cavallone-Jurek for her talent and hard work, you make SXU proud!
For more information on SXU's education program, please visit the website. To learn more about Phyllis Cavallone-Jurek and her work at St. Therese Chinese Catholic School, please read the Golden Apple Foundation's website.
---