SXU alumna named one of 25 Women in Leadership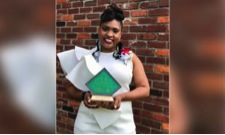 When Saint Xavier University (SXU) students become alumni, they make great strides with the tools their education and experiences provided them. Myskeshia Mitchell, an SXU alumna, proves this to be true. Recently, she was nominated and selected to be recognized as one of Peoria's 25 Women in Leadership. Her work in teaching, as well as volunteer work, made her a prime candidate for this honorable award.
In 2004, Mitchell earned a master's degree from SXU in elementary education. Ten years later, she returned for another master's degree in education administration. As a graduate student, Mitchell worked in SXU's Education Department, and was inducted into the international honors society of education, Kappa Delta Pi. Her favorite memory is of the main Chicago campus, and its beautiful landscape. She enjoyed snapping pictures of Lake Marion and the flowers during breaks from classes.
Currently, Mitchell is a counselor at Manual Academy in Peoria. One of her focuses includes setting high school students on the college track. She is involved with the Illinois Central College's Early College Option, which allows pupils the opportunity to take college level classes, and earn the credit for them, while still in high school. If one thing is obvious, it is her dedication to her students.
Mitchell believes this type of recognition for teachers is critical, especially for women.
"The education field is highly populated with women," said Mitchell. "Sometimes as women we have to work harder than our male colleagues to be recognized for our work. A previous professor informed me that as women, we may have to work harder, but I should always display my credentials in my office for all to see. To this day, I proudly display all four of my diplomas, which include one bachelors and three masters' degrees, my IDFPR LPC counseling license, and my National Board Certification for professional counseling. This honor brought attention to the work I have been doing in schools for years."
This year was the 17th annual presentation for the prestigious 25 Women in Leadership Awards. Each year, nearly 100 women are nominated for the title, but only 25 are chosen. Obtaining this ranking is a high honor in Peoria. Mitchell was nominated by her significant other, as she displays characteristics of leadership in her personal life, her career and volunteer work. Being selected, she received a plaque, recognition on the WEEK website, and a DVD copy of a program that aired about women and leadership. Mitchell is delighted that she was chosen for this esteemed title, and is grateful for the role SXU has played in her success.
"SXU is where I learned how to be a teacher," said Mitchell. "It is where I learned from working with the professors in the office and the clerical staff what needed to be done in order to make my dreams come true. I loved the fact that the university offered service opportunities, and the staff was welcoming from the start."
While courses arm education students with skills such as strategies and theories, Mitchell knows the real learning experience comes from the job. Her advice to current students is to embrace these moments and learn from them.
"I would encourage students to never be afraid to think and work outside of the box. Strive to be better than you were the day before, be intentional in getting to know your students, be honest with your students and with yourself, be strategic in continuing to learn best practices, and last but not least, stand up for what's right, even if you're standing alone."
Congratulations, Myskeshia! SXU is proud of your amazing achievement, and honored that you are an alumna. Keep up the great work!
For more information on SXU's education department, please visit the website.
---