SXU alumna opens optometry practice in Mt. Greenwood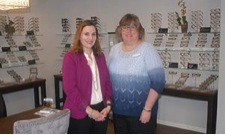 Mt. Greenwood recently celebrated the addition of a new business to the neighborhood. In April, Dr. Karina Langle, an optometrist and Saint Xavier University (SXU) alumna, opened Lunettes Family Eyecare and Optical Boutique, located on 3402 West 111th Street. For the gifted South Side resident, there was no better place to open her office. Her vision is to connect with her patients and provide quality care.
Dr. Langle graduated from SXU in 2002 with a bachelor of science summa cum laude. She then went on to receive her Doctorate of Optometry from Illinois College of Optometry in 2007. Dr. Langle and her husband, Edward, live in Mt. Greenwood with their two children and dogs.
Aside from her academic excellence, Dr. Langle has clinical experience in caring for patients with a multitude of ocular problems, from glaucoma to pediatric exams. A member of the Illinois Optometric Association, she became a fellow of the American Academy of Optometry in 2011. Since 2014, she has been a Diplomate of the American Board of Optometry. Leeann Schlesser, a certified optician, will be working in the practice alongside Dr. Langle.
SXU is proud to see alumni achieve their dreams; congratulations Dr. Langle!
Read more about Dr. Langle's story in the Beverly Review! For more information on Lunettes Family Eyecare and Optical Boutique, please visit the website.
---