SXU alumna recognized by National Communication Association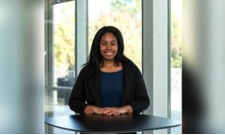 Saint Xavier University (SXU) has programs that motivate and intrigue its students to achieve their fullest potential. Recently, an SXU alumna emphasized this point when she was recognized for her work in communication. The National Communication Association (NCA) recognized Linda Boulton, a graduate of SXU from the class of 2016, as a Comm Grad Spotlight for her creation of online resources for graduate students and work with email-marketing campaigns.
Boulton graduated from SXU with a Bachelor of Arts in Communication. It was her classes that focused on communication in the online and corporate spheres where she became astonished by the craft and science of communication. When she finished at SXU, Boulton made the decision to attended Seton Hall University, where she is currently seeking her master's degree in Strategic Communication. She plans on studying mental health in relation to communication for her final project.
"After working with Dr. Danielle Catona, whose research is grounded in health contexts, along with volunteer experience as a crisis counselor, I became interested in researching communication surrounding mental health illness," said Boulton. "I would like to discover the type of messages individuals respond to best when dealing with a mental health crisis."
In November 2016, Boulton attended the annual NCA convention, which took place in Philadelphia. There, her labor culminated in recognition, when the NCA acknowledged her efforts.
As a graduate assistant, Boulton puts her knowledge of communication to good use. She develops communication plans for incoming students, and has even created a workshop that highlights life as a graduate student. She is also extremely well versed in freelance work, as it allows her the opportunity to expand her network.
Congratulations to Linda! SXU is always proud of the achievements of its alumni.
---