SXU alumna selected to Fulbright U.S. Student Program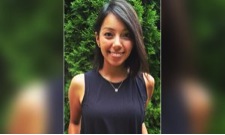 More than 360,000 people from the United States and other countries have participated in the Fulbright U.S. Student Program since its inception in 1946. Now, one Saint Xavier University (SXU) alumna, Kathy Rodriguez '17, will embark on this incredible opportunity and participate in the largest U.S. exchange program offering opportunities for students and young professionals. Rodriguez has been selected to this prestigious Program after undergoing a rigorous application process, where her various achievements – both academic and community-based – shined. She will begin a new journey come fall 2017 and fulfill her role in the Program as an English Teaching Assistant in South Korea.
Through the Program, Rodriguez will be living in a homestay and teaching conversational English in an elementary school. In an effort to meet her goal of engaging with the local community during the academic year, she plans to offer English classes to her students' parents.
"Kathy Rodriguez is one of those students who rises to the top in quiet, purposeful ways," said Provost Kathleen Alaimo. "Her dedication to service, teaching, cultural diversity, and global citizenry are exemplary qualities that contribute to the betterment of the common good. As a Fulbright Teaching Assistant in South Korea, both Kathy and her students will grow in many wonderful ways."
Rodriguez, a Carol Stream resident and first-generation student, graduated from SXU with bachelor's degrees in elementary education and international studies. During her time at SXU, she served her fellow students in positions such as a transitions peer mentor and a peer minister, where she offered encouragement, knowledge, and hospitality.
"Kathy demonstrates professionalism, and embraces the SXU Sisters of Mercy core values of excellence, compassion, and diversity," said Dr. Zepure Samawi, professor and associate dean for undergraduate nursing at SXU. "She will be a great ambassador of SXU alumni!"
In 2015, as a junior, Rodriguez was nominated and accepted as a Schmitt Scholar, which is funded by a grant through the Arthur J. Schmitt Foundation, with the goal to aid in the development of promising student leaders.
She also participated in the Golden Apple Scholars Program, which is dedicated to preparing students who excel to become excellent teachers in difficult settings. In 2016, Rodriguez was a recipient of the Mother Paulita Morris, RSM, Student Service Award, which is given to a student who exemplifies what it means to be a leader who practices service in the community.
"In knowing Kathy Rodriguez, and in witnessing her persistence as a change agent on campus and beyond, I have been blessed," said Dr. Kathleen McInerney, professor for the School of Education. "She is an inspiration to all of us in her personal and professional standards of excellence, integrity, and compassion."
Rodriguez attributes her acceptance into the program to the opportunities afforded to her by Saint Xavier.
"I feel as if Saint Xavier has been preparing me for this moment since I began my journey as a freshman in 2012," said Rodriguez. "The Sisters of Mercy and their critical concerns are the core of why I decided to become involved on campus as a freshman and continued to do so until the end of my senior year. All of these experiences have helped shape me into the individual I am today."
To apply to the Fulbright U.S. Student Program, please visit their website.
---