SXU alumnae commit to year of service with Mercy Volunteer Corps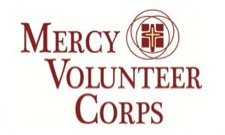 Saint Xavier University (SXU) understands the necessity of service. As a Mercy institution, the Sisters of Mercy and their passion for serving the world have a tremendous influence on the SXU community. Students, staff and faculty are encouraged to take part in spring break service trips, community outreach projects or individual actions. Currently, three SXU alumnae, Bridget Rodriguez, Sandra Ruiz and Megan Lavelle, are engaged with the Mercy Volunteer Corps (MVC) for a year-long commitment of service.
MVC is an organization dedicated to providing aid to underserved communities. There are opportunities for service in many areas, such as immigration, education, environment, poverty and women. It is run by the Sisters of Mercy, and depends heavily on volunteers. Typically, the volunteers live in a community setting in the city of their assignment. Sites are located across the country, with an international option in Guyana.
Bridget Rodriguez graduated from SXU with the class of 2017. A Chicago resident, she joined MVC to step outside of her comfort zone while contributing to the greater good. Seeing the difference volunteering makes inspired her to get involved. As a psychology major, she wanted to assist people battling substance abuse, a goal she could achieve through the Bethesda Project in Philadelphia. Rodriguez is happy with her decision to join MVC, especially because of the friendly atmosphere.
"I realized that in MVC, there is so much passion, and everyone is very friendly and happy to help," said Rodriguez. "No matter how easy or difficult the questions I have asked, they are very kind with their response, and always lend out a helping hand if I need anything else. I am very excited to be part of this amazing team!"
A South Side native, Sandra Ruiz is also a graduate from SXU class of 2017. Her background as a first-generation college student and psychology major pushed her to pursue a career in social work, with a focus on families and children. St. Peter's Elementary School in San Francisco was the obvious choice for Ruiz. She is motivated to helping the children and families succeed in any way possible.
"One main reason why I decided to commit to a long-term volunteer experience was because I would like to have the opportunity to show others that where they come from, or the color of their skin should not define how others should see them, or stop them from being successful," said Ruiz. "However, most importantly, I would like to help others that are in need as much as I was helped and influenced while growing up."
For Megan Lavelle, mercy has a strong grip on her life. An alumna from SXU, class of 2015, Lavelle spent the 2016-2017 academic year as a Campus Minister at Mother McAuley Liberal Arts High School. In her undergraduate career, she was deeply involved at SXU as a Peer Minister. Lavelle majored in nursing, and, as a result, is passionate about healthcare. She is completing her commitment at the Mercy Medical Center in Baltimore.
"I will have the privilege and opportunity to truly serve among and in a community that is so deserving of sustainable, quality healthcare," said Lavelle.
Thank you Bridget, Sandra and Megan for your service! Your selflessness speaks volumes, and SXU is proud if your actions.
For more information on the MVC, please visit their website.
---