SXU alumni and friends host upcoming events for all to enjoy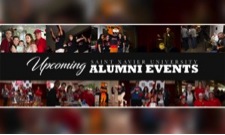 Saint Xavier University's (SXU) alumni and friends are welcome to attend the various upcoming events throughout the fall 2017 semester. Meet and mingle with new friends and old as you participate in activities that will be enjoyed by all!
Alumni Bowling Night – September 13
Don't head to bed or settle-in for a Netflix binge when you can join Alumni Relations and Student Life for late night bowling on September 13 at 10 p.m. at Arena Lanes, 4700 W. 103rd Late night bowling is a fun, inexpensive way to spend an evening! Alumni and students (ages 21+) are invited to show off their bowling skills or simply bowl for the fun of it. This is a no judge zone! No expertise is needed!
Alumni Football Tailgate – September 16
Alumni Relations will be hosting a tailgate to watch SXU face-off against Lindenwood University on September 16 at 6 p.m. So put on your SXU fan apparel, gather your family and friends, and meet us at Cougars' Corner, the official alumni tailgate tent at Bruce R. Deaton Memorial Field. Each tailgate will have a different theme and various activities for kids. Tent opens one hour prior to kick-off and remains open until the end of the game.
Homecoming Week – September 24 through September 30
The SXU community is preparing for yet another exciting, spirit-filled week of activities and events for its 2017 Homecoming Week, which will take place from Saturday, September 24 to Saturday, September 30. SXU is delighted to invite students, alumni, faculty, staff and friends to enjoy the festivities on the Chicago campus.
Game Night at Gil's – September 27
Game Night at Gil's provides the opportunity to meet other SXU alumni and members of the SXU community. Gilhooley's will offer great food and drink specials on every Game Night, including their homemade, melt-in-your-mouth skillet cookie. Join us the last Wednesday of every month for trivia hosted by Alumni Relations. Entry is $5 per person and teams will be limited to five players/team. The winning team will get their entry fee back and receive a gift card/gift certificate from a local establishment. Online registration is preferred.
Cougars Connect: Career Networking Night – September 28
Career Services at Saint Xavier University invites you to participate in another Cougars Connect: Career Networking Night on September 28 from 5:30 to 7 p.m. in Warde Academic Center's Butler Reception Room. Students will have an opportunity to network with SXU alumni, learn how to enhance their LinkedIn profile and receive a free headshot to be used for LinkedIn. The event is open to all majors and levels. See what people do in the career world with their Saint Xavier degree! Alumni are encouraged to participate in the networking night to share your success with current students.
Motown the Musical – October 5
"Motown the Musical" is the story of one man's vision that rocked the music industry with its new genre of soulful rhythm and blues combined with pop. SXU Alumni Relations invites you to join us for the show that the Chicago Sun Times calls, "an express thrill ride into pop music heaven!" The event is scheduled for October 5 at 5 p.m. departing from Gilhooley's Grande Saloon. Online registration is $55 per person which includes heavy appetizers and soft drinks (cash bar), coach bus transportation and show ticket.
For additional information, please contact SXU's Alumni Relations Office at 773-298-3316 or alumniFREESXU.
---