/
/
/
SXU Alumni and Friends host upcoming events for all to enjoy in spring 2017
SXU Alumni and Friends host upcoming events for all to enjoy in spring 2017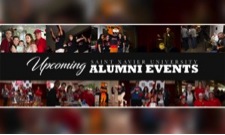 Saint Xavier University's (SXU) alumni and friends are welcome to attend the various upcoming events throughout the spring 2017 semester. Meet and mingle with new friends and old as you participate in activities that will be enjoyed by all!
'Golden Gals Gathering' on January 25
We welcome all the Golden Gals, SXU alumna who graduated from 1966 and back, to join us for a monthly social club that will allow them to become reacquainted with classmates who share in the Mercy tradition. The next event will be held on Wednesday, January 25 at 10 a.m. at Juicy-O Restaurant, 844 IL-59 (across from Fox Valley Shopping Center), Naperville.
'Paint and Pints at the Pub' on January 26
Enough with painting the same scene as everyone else at a painting party. Show your talent and creativity by painting your own designs on something you'll use over and over again, Pilsner glasses! SXU alumni, friends and senior students (21+) are invited to nurture their artistic nature and join in for a painting party like no other on Thursday, January 26 starting at 6:30 p.m. at Gilhooley's Grande Saloon. Admission is $20 and includes appetizers, beverages and supplies to paint two Pilsner glasses. A cash bar will be available for those wishing to purchase drinks.
CMP Tactical Lazer Tag on January 28
This is laser tag the way you have never played it before! Make sure you bring a group of friends and your competitive spirit. The battle begins at 11:15 a.m. at CMP Tactical Lazer Tag, 10315 Vans Drive, Frankfort. Admission is $30 and online registration is required.
Scholarly Conversations in Nursing: Medical Marijuana on February 9
SXU's School of Nursing (SON) in conjunction with Sigma Theta Tau, Alpha Omicron Chapter and SXU Alumni Relations proudly presents Scholarly Conversations in Nursing scheduled for Thursday, February 9 at 6:30 p.m. in Warde Academic Center's Butler Reception Room. The guest speaker for this event is Judith A. Paice, Ph.D., RN, FAAN, who is the director of the cancer pain program in the division of hematology-oncology and a research professor of medicine at Northwestern University, Feinberg School of Medicine. She is also a full member of the Robert H. Lurie Comprehensive Cancer Center. Dr. Paice has served as president of the American Pain Society and secretary of the International Association for the Study of Pain. Much of her clinical work has been in the relief of pain associated with cancer and HIV disease. Registration is required for this event; please sign-up by Friday, February 3. Admission is $20, which includes hors d'oeuvres and beverages. A cash bar will be available and a 1.0 CEO will be awarded.
Halfway to Homecoming on February 24
It may not be Fat Tuesday, but let's get Mardi Gras started! Don your feather masks and beads, hats and costumes, gather your friends and family and join us on this "Fat Friday" for food, drinks, music and merriment! You must be 21 or older to attend. A portion of the proceeds will go to support student scholarships at Saint Xavier. Online early bird registration is $35. Admission will include food and beverages (beer, wine and soda) all evening. After early bird admission, the cost is $40.
Chicago Cubs vs. the Chicago White Sox Spring Training Game on February 27
The infamous Windy City baseball rivalry will take on a whole new dimension as the World Series Champions Chicago Cubs face the Chicago White Sox for spring training in Mesa, Ariz. SXU Alumni Relations welcome alumni and friends to join us Monday, February 27 in sunny Mesa, Ariz. to get a sneak peak at the upcoming baseball season. Admission is $75 per person (limited to 4 tickets per person) and includes game ticket, exclusive seating on the party deck, food and soft drinks. A cash bar will also be available. A portion of the proceeds will go to support student scholarships at Saint Xavier University. Online registration is available.
'Golden Gals Gathering' on March 8
SXU's 'Golden Gals Gathering' gets a double feature this semester! If alumna from the class of 1966 or back weren't able to make the Jan. 25 event, they have a chance to meet and mingle with their old classmates again; this time on Wednesday, March 8 at 10 a.m. at the Harvest Room, 7124 West 127th Street, Palos Heights. Golden Gals Gatherings will be held in different venues across the Chicagoland area, so if you can't make it this time, check SXU's website for the next location!
Brown Bag Service Project on March 15
SXU alumni and friends have the opportunity to volunteer to pack lunches for people at local shelters. Join in to help make a difference on Wednesday, March 15 at 6 p.m. in Warde Academic Center's Diner Atrium.
President's Scholarship Celebration on April 1
SXU alumni and friends are welcome to participate in the annual President's Scholarship Celebration on Saturday, April 1 at 5:30 p.m. at the Radisson Blu Aqua Hotel, 221 North Columbus Drive, Chicago. There will be a special performance by Chris Mann, finalist on NBC-TV's "The Voice" and recently starred as the Phantom in the new Phantom of the Opera National Broadway Tour. The event chair couple will be Timothy G. '82 and Therese Trahey. Online registration will be made available soon!
For additional information, please contact SXU's Alumni Relations Office at 773-298-3316 or alumniFREESXU.
---