Alumnus named Golden Apple recipient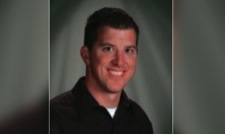 Each year, the Golden Apple Foundation recognizes five teachers who have strived to make a difference in their communities. Thomas Freesmeier, a Saint Xavier University (SXU) alumnus, was one of those recipients. Freesmeier teaches eighth grade social studies at Harlem Middle School in Machesney Park, Ill. and is extremely well liked by students, faculty, staff, administrators and the community for his dedication to education.
Freesmeier completed his undergraduate studies in political science at Marquette University, and then obtained his Teacher Leader's masters from SXU. He was chosen from a pool of 20 finalists from school districts in Winnebago and Boone counties. All teachers underwent an in-class observation and interviews during this process.
The Golden Apple recipients were honored at the 21st Annual Golden Apple Foundation banquet on April 28 in Rockford, Ill. Freesmeier received a monetary award, along with a stipend from the Foundation for professional development. A laptop with Entre Computer Solutions software and a desktop computer were also given to him at the induction.
SXU would like to congratulate Freesmeier for his outstanding efforts in teaching!
For more information on the Golden Apple Foundation, please visit their website.
---