/
/
/
SXU alumnus promoted to security force chief at O'Hare and Midway airports
SXU alumnus promoted to security force chief at O'Hare and Midway airports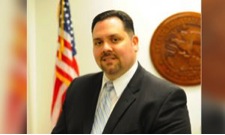 The O'Hare and Midway airports that serve Chicago have welcomed a Saint Xavier University (SXU) alumnus to their security teams. Since Monday, June 19, Andrew Velasquez III has become the new managing deputy commissioner for safety and security. His duties will consist of protecting passengers, supervising emergency response units at the airport and working with various departments and agencies.
Velasquez graduated from SXU in 2002 with his masters of business administration in management through the Chicago Police Department (CPD) program. He has served as a Chicago police officer and has experience handling emergency response procedures.
In 2015, after spending eight years as the director of the Illinois Emergency Management Agency, then President Barack Obama delegated Velasquez to the administration of the Federal Emergency Management Agency for six states: Illinois, Indiana, Michigan, Minnesota, Ohio and Wisconsin.
"Andrew's strong experience managing large governmental security agencies and coordinating high level emergency responses between federal, state and city agencies makes him extremely qualified to manage safety and security operations for two of the nation's largest airports, and lead the multilayered security program that helps more than 100 million passengers safely travel through Chicago's airports each year," said Ginger Evans, Aviation Commissioner.
As chief, Velasquez will oversee a squad of close to 300 Aviation security officers. His job has begun with his force being investigated following a United Airlines incident in April, when security officers violently dragged a passenger off of a plane, causing serious injuries and sparking national outrage. He will also be involved in the debate over the issue of Aviation security officers being able to use the title of police.
SXU is proud of Velasquez's achievements, and encourages him to use the skills he learned as a student to serve Chicago well.
Read Velasquez's story in DNAinfo Chicago!
---