SXU alumnus wins patent suit against Sears and Apex Tool Group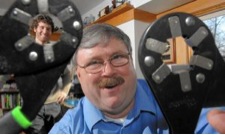 A Saint Xavier University (SXU) alumnus was awarded $6 million dollars in damages following a lawsuit for copyright infringement. Dan Brown Dr. is the founder of LoggerHead Tools LLC, located in Palos Park. He and his son, Dan Brown Jr., filed the claim against Sears and Apex Tool Group in 2012, when they realized a Craftsman brand wrench was too similar to their Bionic Wrench.
Dan Brown Sr. graduated from SXU in 1978 with a Bachelor of Science degree. With his outstanding knowledge of engineering, Brown invented the Bionic Wrench, which features a unique plier grip with the option to adjust the size. He introduced the tool to the market in 2005, through his company. In less than five years, the Bionic Wrench had led to $20 million in profits.
In 2009, Sears began purchasing the Bionic Wrench from LoggerHead Tools; however, the orders ceased in 2012, when they began producing the Max Access Locking Wrench under the Craftsman brand. The Browns felt they had to sue Sears and Apex to defend their creation. Seeking justice in cases of copyright infringement against large corporations can present a huge risk for small businesses. When the federal jury in Chicago recognized the violations, it was a big step in for local business owners.
"It's a huge win for small business, small inventors and people who think if they have a great idea they should be able to bring it to the market and not be crushed by a corporate giant," said Dan Brown Jr.
In the aftermath of the decision, LoggerHead Tools has also decided to pursue an injunction to keep copies of their tools out of the market.
SXU is excited to see the favorable outcome of the LoggerHead Tools Company, and would like to congratulate the Browns and their business on their hard work.
For more information on the LoggerHead Tools Company and lawsuit, please read the story online.
---