SXU Art Gallery presents Karen Ami's "Birth Marks"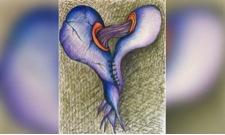 Artists have the ability to draw connections between seemingly contradictory topics, creating a notably intriguing experience for an audience. Saint Xavier University's (SXU) Art Gallery now features work of this meaningful nature as it welcomes an exhibit by artist Karen Ami. Ami's work serves as a representation of the heart, and seeks to examine the balance of barriers such as life and death. Her work will be showcased in the second gallery installation of the fall semester. The exhibition, entitled, "Birth Marks" is slotted to run from Wednesday, September 27 through Monday, October 23 in the SXU Art Gallery on the Chicago campus, 3700 West 103rd Street. A reception will be held on Wednesday, September 27 beginning at 3:30 p.m.
Ami, a Chicago resident, utilizes various mediums in creating her drawings, ceramics, carving and mosaics. Her work is a reflection of hurting and healing, both processes relating back to the heart, furthering her art's symbolic meaning. Ami is also the founder and executive director of The Chicago Mosaic School, a facility that encourages the study of the ancient art form through a deep appreciation of its form.
The following is a statement from the artist which reflects her artwork for this exhibit:
"I create drawings and writings in clay and break them apart--reconstructing and reassembling pieces to create a new whole. This process of deconstruction and the rebuilding; incorporates cuts and scratches as part of my addictive method of mosaic. The resulting works are an outcome of a continual journey of exploration and investigation. These compositions combine rich surfaces and bio-morphic forms, exposing complex and primitive stories of transformation and regeneration. The deconstruction and repair in my unique process is a metaphor for the life cycle and how the world can become whole."
SXU's Art Gallery hours are 11 a.m. to 5 p.m. Monday, Wednesday, and Friday noon to 5 p.m. Tuesday and Thursday; and 11 a.m. to 2 p.m. on Saturday. For more information, please visit SXU's website.
---