SXU's Art Gallery opens season with Silkscreen Poster exhibit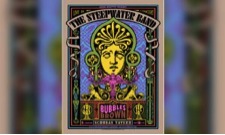 Saint Xavier University's (SXU) Art Gallery will open its spring 2017 season with an exhibition of work from Kyle Baker of Baker Prints, a Chicago-based commercial art and design business. His exhibit entitled, "Baker Prints: Silkscreen Gig Posters" will feature some of his most incredibly colorful, hand-printed posters for some of the biggest bands and best poster artists in the world.
This exhibit will be on display starting Monday, January 9 and will run until Tuesday, February 7; there will also be an artist presentation scheduled for Wednesday, January 18 at 3:30 p.m. in the SXU Art Gallery.
Art Gallery hours are Monday through Friday 10 a.m. to 5 p.m., and Saturday 11 a.m. to 2 p.m.
---