/
/
/
SXU Art Gallery presents Barbara Cooper's 'Reparations: Sculptures and Drawings'
SXU Art Gallery presents Barbara Cooper's 'Reparations: Sculptures and Drawings'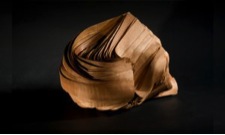 When it comes to artists, many have one unique specialty that they perfect over the course of their career; however, for one Chicago artist, her specialty includes working fluidly between sculpture, drawing and public art. Saint Xavier University's (SXU) Art Gallery will feature the wood sculpture and drawing work of Barbara Cooper and will serve as the second exhibit installment of the spring semester. This exhibition entitled, "Reparations: Sculptures and Drawings" will run from now through Saturday, March 25 in the SXU Art Gallery on the Chicago campus, 3700 West 103rd Street. Public welcome!
Cooper, a Chicago resident, showcases her artwork through observations of building processes in the natural world. Her work is about taking something that grows, then goes through an industrial process, becomes waste material, and is then returned to organic form again through her artistic skill. She has a sustained interest in developing forms that express flow and movement within the context of space and structure.
The following is a statement from the artist which reflects his artwork for this exhibit:
"Nature is always my place to begin. I am drawn to how forms respond to the stresses they withstand and the obstacles they confront. Starting with observations of specific phenomena, I abstract the parallels I find in processes as diverse as the surge of lava, the creep of a glacier, the flow of water, or the growth of a tree. My focus is on how a form records its growth process of evolving from one condition to another as it responds to its environment. This process of transformation, whether in the natural environment or in the realm of the cultural or the personal, is an essential aspect of life. It is the foundation upon which my work is built."
SXU's Art Gallery hours are 11 a.m. to 5 p.m. Monday, Wednesday, and Friday noon to 5 p.m. Tuesday and Thursday; and 11 a.m. to 2 p.m. on Saturday. For more information, please visit SXU's website.
---