SXU Art Gallery presents Kyle Baker's 'Silkscreen Gig Posters'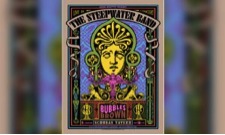 Saint Xavier University's (SXU) Art Gallery will feature the screen printing work of Kyle Baker and will serve as the first exhibit installment of the spring semester. This exhibition entitled, "Silkscreen Gig Posters" will run from Monday, January 9 to Tuesday, February 7 in the SXU Art Gallery on the Chicago campus, 3700 West 103rd Street. A presentation by the artist and reception will be held in the SXU Gallery on Wednesday, January 18 at 3:30 p.m. Public welcome!
This exhibit has already caught the attention of the media through the following outlets:
Daily Southtown
CBS Local
Everyblock
Baker is a graphic and web designer who owns Baker Prints, a Chicago-based commercial art and design business. He is a proud accredited professional of the American Poster Institute (API) and an officer of the Chicago Printers Guild (CPG). Baker attended Bradley University on a full academic scholarship, where he receive a Bachelor of Science in psychology and minors in business management and professional writing.
The following is a statement from the artist which reflects his artwork for this exhibit:
"I fell in love with screen printing the first time I tried it. I took Steve Walter's Screwball Academy eight years ago; a single-day, one-on-one crash course in flat stock screen printing. It hit me like a ton of bricks -- keep doing this, as much as you possibly can. It's ineffable, not unlike the joy I get from playing ping pong. Steadily I've gotten really good at it. As I got better I put a proper print shop together, piece by piece, and I started printing other artists' work as well as my own. Today I have three full-time employees and we print posters every day for some of the biggest bands and best-known poster artists. As an artist, it's the limitations of the medium I find most liberating. Our creative tools are so powerful these days it can be paralyzing. Screen printing imposes parameters, it has relatively narrow strengths, and creating inside those boundaries has defined how I create art. I have an abiding love of music and I see posters as the quintessential graphic design challenge. That their intersection as a viable art form exist in the silkscreen print shop is an amazing stroke of luck for me."
SXU's Art Gallery hours are 11 a.m. to 5 p.m. Monday, Wednesday, and Friday noon to 5 p.m. Tuesday and Thursday; and 11 a.m. to 2 p.m. on Saturday. For more information, please visit SXU's website.
---