SXU Art Gallery presents Meghann Sottile's 'Traced Hallows'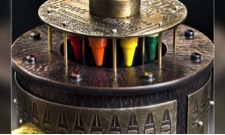 Saint Xavier University's (SXU) Art Gallery proudly presents "Traced Hallows" exhibit by Meghann Sottile beginning Monday, August 21 through Tuesday, September 12. Sottile is a sculptor and metalsmith who often uses ordinary "found" objects in her work. She will give a brief presentation about her work on display on SXU's Chicago campus, 3700 West 103rd Street, on Wednesday, August 30. This exhibit is free and open to the public.
Sottile graduated from Arizona State University (ASU) with a Bachelor of Fine Arts (BFA) in metalworking, and another in art education. She has instructed numerous workshops, including one for the Eleanor A. Robb Children's Art Workshop at ASU. At Lillstreet Art Center, she taught classes while expanding her knowledge and skills. Sottile is a member of the Society of North American Goldsmiths and Crafthaus, and has been featured and won multiple awards for her art. Currently, she works at Columbia College Chicago in the design department as an instructional specialist for the fabrication facility.
The following is a statement from the artist, which reflects her work for this exhibit:
"I remember attending Catholic mass when I was younger and bring captivated by the beautiful and elaborate reliquaries that housed sacred relics. The impression these shrines left was lasting and I find myself returning to the ideas they held. Now, utilizing family heirlooms and prized found objects, I see to find my own hallowed places. These treasures, left behind to discover, allow me to investigate their origins and my own connection to the objects around me. By employing both traditional and contemporary metalsmithing techniques I am able to craft ornate and imaginative vessels to house these personal relics, offering them both a powerful place to rest and a place within my own sacred vocabulary."
This exhibit has been featured on the following publications:
Daily Southtown
CBS 2 Chicago Community Calendar
Daily Herald (print only)
SXU's Art Gallery hours are 11 a.m. to 5 p.m. Monday, Wednesday and Friday; noon to 5 p.m. Tuesday and Thursday; and 11 a.m. to 2 p.m. Saturday. For more information, please visit SXU's website.
---