/
/
/
Women's basketball team hosts 'Hoops for Hope' in support of SXU student with cancer
Women's basketball team hosts 'Hoops for Hope' in support of SXU student with cancer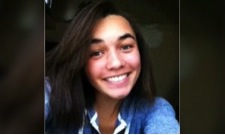 The No. 3 ranked Saint Xavier University women's basketball team will host a "Hoops for Hope" fundraising event on Wednesday, February 22 at 7 p.m. in the Shannon Center for SXU student and member of the community, Tara Hill, in conjunction with its first round playoff game of the 2017 Chicagoland Collegiate Athletic Conference (CCAC) Tournament. Hill is currently battling Ewing's Sarcoma, a rare bone and soft tissue cancer. All proceeds raised from this event will go directly to Tara and her family. With your help, the team hopes to make a positive financial impact on Tara and her family. The event is open to the general public!
Join us in helping this deserving student by participating in raffles, such as the chance to win a Chicago Blackhawks and Cubs jersey; a free throw contest for a chance to win $50; a "miracle minute," split the pot; and of course, a great basketball game!
This week, students can sign a banner in the SXU Diner and write the name of a loved one(s) that have passed, are fighting, or have beaten cancer of any kind. There will also be a "Hoops for Hope" t-shirt pre-purchase sale. Those interested in purchasing a t-shirt should contact Tomei Ball, event coordinator and women's basketball player, at ball.t01FREEmymail.SXU.
This is now the third event where SXU students have rallied together in support of their fellow classmate, Tara. Last year, students held a car wash to help offset Tara's medical bills. Additionally, many student-run organizations on campus held a bracelet and bake sale over the course of a week and were able to raise $1,000!
Join us next week and help make a difference for one courageous cougar!
---