SXU welcomes back students with the celebration of Winter Week 2017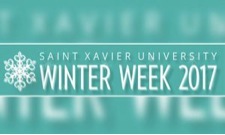 Saint Xavier University (SXU) welcomes back students with the celebration of Winter Week starting today! Winter Week is sponsored by the Office of Student Life, Saint Xavier Council, Residence Life and University Ministry. If you have any questions, contact the Office of Student Life at 773-341-5060.
Monday, January 9
Magician Dennis Watkins -- 11 a.m. to 1 p.m., Diner Atrium
Kick off Winter Week and join us for an afternoon of tricks, magic and laughter as you head into the first week of classes for the spring semester!
Blizzard Bowl -- 9:30 p.m. to midnight, Arena Bowling Lanes
Get some snowy strikes with your friends at Arena Bowling! Show rental and two games covered. Check in at Regina Hall at 9:30 p.m.; the bus will leave from Regina Hall at 9:45 p.m.
Tuesday, January 10
Cougar Spirit -- 11 a.m. to 1 p.m., Student Lounge
Get ready for a year of spirit by creating signs and fun spirit gear to cheer on your fellow cougars at their upcoming athletic games! Snacks will be provided.
Ice Skating -- 5 to 9 p.m., Maggie Daley Park
Join us for a night of ice skating on the ribbon in the heart of downtown. Transportation included, skate rental is $12 at the park.
Wednesday, January 11
Registered Student Organization (RSO) Fair -- 11 a.m. to 1 p.m., Student Lounge
Interested in getting involved on campus? Come to the RSO Fair and enjoy food, music and grab more information from the RSOs!
SXU Basketball -- women's game at 5 p.m.; men's game at 7 p.m., Shannon Center Main Arena
Come get loud with the Coug Crowd as your SXU Cougars take on St. Ambrose University! Sign-up for the half-court shot at the games! If no one makes the shot at the women's game, it will happen again at the men's game -- winning prize is $100!
Thursday, January 12
Hot Chocolate Bar -- 11 a.m. to 1 p.m., Diner Atrium
You are invited to decorate your own mug and then create your own delicious winter drink! Enjoy sipping on some hot chocolate while meeting our guests, the Sisters of Mercy! This event is hosted by Saint Xavier Council (SXC).
SXU Idol -- 6 to 8 p.m., McGuire Hall
Come out and show SXU who has the most talent on campus! Be sure to attend to meet our guest judge, Julissa Veloz, a widely known American Idol contestant on season 8, who will conclude the evening with a presentation of her own!
Friday, January 13
Casino Night -- 7 to 9:30 p.m., Regina Res Center
Enjoy Black Jack, Poker, Roulette, Craps, Slot Machines and Bingo with your fellow Saint Xavier Council friends!
---