/
/
/
Twelve SXU students selected for Chicago Network's Future Leaders Program
Twelve SXU students selected for Chicago Network's Future Leaders Program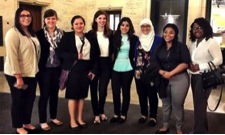 Twelve students at the Chicago Network's Future Leaders Program will represent Saint Xavier University (SXU) on Monday, May 8 and Tuesday, May 9. SXU, Dominican University, and University of Illinois-Chicago have all partnered with the Chicago Network, a group of senior women business leaders, to share various career experiences with 36 young women. Students from SXU will be visiting Heartland Alliance for Human Needs and Human Rights, the National Immigrant Justice Center (NIJC), and the Hyatt Corporation.
The SXU students selected to participate in the program are: Jill Augustine; Lisette Carrera; Maribeth Hampton; Alexis Harrison; Courtney Joyce; Carleigh Kemp; Diana Magana; Molly Rademacher; Aleta Riley-Tellis; Jillian Siemiawski; Kailey Tassone; and Deana Watson
Students who attend the Future Leaders Program are given the opportunity not only to visit the host companies, but also to partake in an interactive schedule, which include learning about the industry, touring the space, and reviewing the necessary qualifications of that career. The program is meant to empower women in becoming leaders.
"I want to express my appreciation to the women from Saint Xavier University who are participating in the Future Leaders Program," said Kate Bensen, president and CEO of the Chicago Network. "This program helps to level the playing field for bright and talented young women, many of whom are first generation college students who may not have had direct access to professionals in our members' industries. Not only do they get a chance to see a workplace in action, they have the rare opportunity to understand what it takes at all levels of an organization to run these businesses successfully day-in and day-out. The goal is for these students to be equipped to more fully envision potential careers – and where they fit in – for themselves."
The Future Leaders Program accepted applications from sophomore and junior university students. Requirements consisted of a resume, academic and extracurricular information, and a description of career goals. Those who were accepted will be attending an orientation in Chicago on Tuesday, April 25.
For more information on the Future Leaders Program, visit the Chicago Network's website.
---