/
/
/
SXU nursing alumnae and student attended 2017 Clinical Nurse Leader Summit
SXU nursing alumnae and student attended 2017 Clinical Nurse Leader Summit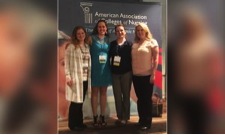 SXU alumnae of the Master of Science in Nursing Program – Clinical Leadership, and current students in the program recently attended the 2017 Clinical Nurse Leader (CNL) Summit in Atlanta, Georgia. Alumnae Amara Kroll, MSN, RN, CNL; Tanya Rutledge, MSN, RN, CNL; Rebecca White, MSN, RN, CNL; and Jennifer Morgan, RN, MSN, CNL, CCRN-CMC; as well as, current students Rachel Archer, BSN, RN-C, Kristen Aguirre, BSN, RN; and Jennifer Fischer, RN, BSN, CCRN, were among those who participated.
The CNL Summit is the only national gathering for nurses in Clinical Nurse Leader positions or academic programs. Nurses who hold CNL positions, students in CNL programs, and faculty who teach in CNL programs attend the Summit to network and learn from one another. The Summit includes keynote presentations by experts from practice or academia; brief "Innovation Presentations," where nurses in CNL positions describe quality improvement initiatives; and poster sessions, where CNL's and faculty display information about projects undertaken in practice or academic settings. SXU's alumnae and current CL students had the opportunity to share ideas for implementing their CNL role in various settings and advancing it more widely throughout the nation.
Morgan and Fischer presented a poster at the Summit entitled, "A Clinical Nurse Leader's Journey to Decrease Aspiration Pneumonia Rates."
Rutledge was one of those to participate in the "Innovative Presentations." Her presentation entitled, "Saving Nursing Time: Standardizing and Organizing Supply Rooms Utilizing Lean Methodology," focused on improving the organization of supply rooms in her hospital to increase time devoted to patient care. Her project, which was done during her practicum in the MSN program, was implemented at James H. Quillen VA Health Care System where she's been working for eight years.
In her presentation, she showed photos that documented the lack of organization and standardization of supply rooms. Rutledge explained that nursing staff members were timed in collecting 12 frequently-used items from three different supply rooms. Her data showed the average amount of time needed to collect the 12 supplies was five minutes and 20 seconds. Staff members' average satisfaction level was 4.4 where 10 was the highest score possible. After reorganization and standardization, the average time needed to collect those same 12 items was three minutes and 11 seconds less than before, and the average satisfaction level increased to 8.2. Rutledge shared the calculated time savings of 11,000 hours of nursing time over the course of a year, which translates to more time that nursing staff can spend on patient care rather than hunting for supplies.
The CNL Summit is held annually and is sponsored by the American Association of Colleges of Nursing (AACN).
SXU alums or current students interested in attending the 2018 CNL Summit February 21 to 23 in Anaheim, Calif. should contact Professor Michele Poradzisz at poradziszFREESXU.
---