SXU's Commencement ceremonies featured on NBC Nightly News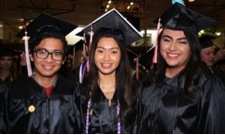 Saint Xavier University (SXU) held its 171st Annual Commencement ceremonies during the weekend of May 5 and 6, where a total of 991 graduates were celebrated. The weekend's ceremonies was filled with tears of joy and pride, laughter and an overall sense of accomplishment by students and administration alike.
The annual festivities incorporated an exciting lineup of speakers this year, which included: President's Fellow for Global Development at Purdue University Carolyn Y. Woo, Ph.D.; Marilyn Keough Dean of the Keough School of Global Affairs at the University of Notre Dame R. Scott Appleby, Ph.D.; and award-winning Chicago Sun-Times Urban Affairs Reporter and Columnist Maudlyne Ihejirika.
This line-up gained attention of SXU graduates but various media outlets throughout the Chicagoland area. For the second year in a row, SXU's Commencement ceremonies have been included in NBC Nightly News' Annual Commencement Roundup segment.
Missed SXU's Commencement ceremonies? No problem, watch them here!
---