SXU announces 2017 Commencement student speakers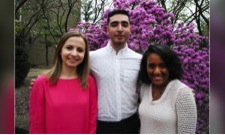 Each year, three Saint Xavier University (SXU) students are selected from a pool of candidates to give speeches at the University's Commencement ceremonies. Reflecting on their time at SXU, each student creates a speech with words of inspiration and encouragement for the graduating class.
The 2017 Commencement speakers include: Valencia Pringle, Bachelor of Business Administration with a concentration in accounting, will deliver her speech on Friday, May 5 at 7 p.m. to graduates of SXU's Graham School of Management (GSM); Meghan Hill, Bachelor of Arts in Music and Bachelor of Science in Communication Sciences and Disorders, will give her speech on Saturday, May 6 at 10 a.m. to graduates of the College of Arts and Sciences; and Mohammad Alsheikh, Bachelor of Science in Nursing, will present his speech on Saturday, May 6 at 3 p.m. to the graduates of the School of Nursing (SON) and School of Education (SOE).
The Commencement ceremonies will be held in the Shannon Center at the University's Chicago campus located at 3700 W. 103rd St.
Valencia Pringle, Chicago resident, took to SXU's Mercy mission and heritage right from the start and her admiration for the founding Sisters of Mercy grew over the course of her time on campus. Through her involvement with SXU's Campus Ministry and Awakenings Retreat, she was able to build lifelong relationships that relish in diversity and acceptance for all people. Her positive and outgoing personality is contagious and can be seen through her many accomplishments and leadership roles, such as being a student ambassador, resident assistant, Schmitt Scholar, awakenings leader and serving on GSM Student Advisory Council. Following graduation, Pringle will continue her education by pursuing a master's degree from DePaul, where she will prepare for the Certified Public Accountant (CPA) exam.
"When reflecting on what I'll miss the most, I'd have to say the people and overall environment of campus," said Pringle. "I'll never forget the class I took sophomore year on the Sisters of Mercy and learning about their selflessness in pursuit of helping others – I want to live out that mission as I move forward in my career, to take a leap of faith and embrace my Mercy education."
Meghan Hill, Aurora, Ill. resident, has been an active member within the SXU community from the very beginning. Through her various leadership roles held on campus, such as being a resident assistant, transitions peer mentor, student ambassador and a participant in music ensembles, Hill has considered SXU her second home. Over the years, SXU has changed her outlook on just about everything – from what she can do for others to how she can make an impact in the life of another. Through various coursework and volunteerism, Hill has developed a philanthropic mindset, which she will carry with her post-graduation. Looking into the future, she has plans to get her master's degree from Northern Illinois University in speech pathology. If there's one life lesson Hill has learned throughout her time at SXU, it's that the sky is the limit – and anything is possible!
"My advice to any incoming SXU student would be to not let anyone tell you what you can or cannot do," said Hill. "If I had allowed others to sway my decisions over the course of my college experience, I would not be a double major or have been involved in as many things as I was. I'm so proud of all that I've accomplished at SXU – any new student should feel the same; tackle the challenges rather than let them scare you away from an opportunity to grow, for yourself."
Mohammad Alsheikh, Tinley Park, Ill. resident, didn't always know what he wanted to do for a career, but one thing was certain, he knew he wanted to help those around him. He holds a level of compassion for people from all different backgrounds and it was his keen sense of intellect that led him to find a career in nursing. When he's not behind a book studying, he enjoys being active through his involvement with various aspects of campus life, such as being a member of SXU's Muslim Student Association (MSA), National Society of Collegiate Scholars and Sigma Theta Tau International, the honor society of nursing. Though his coursework proved to be challenging at times, it was through the support of friendships made at SXU that helped him accomplish each obstacle along the way. Following graduation, Alsheikh hopes to stay in the "school mindset" while he prepares to take his National Council Licensure Examination (NCLEX).
"I knew I chose the right career path for myself after my first clinical patient," said Alsheikh. "It was an experience unlike any other I've ever had; for the first time, I knew I was making an impact based on the knowledge I've learned both in and out of the classroom. It was in that moment I knew, I was ready for this…I was ready to follow my dream."
For more information on SXU's Commencement weekend, please visit SXU's website.
---