Saint Xavier Council hosts 'Purple Thursday' to unite against domestic violence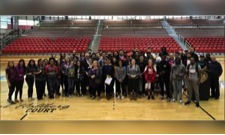 Each year, millions of people are affected with domestic abuse at the hands of their spouse or intimate partner. Intimate partner violence accounts for 15% of all violent crime that occurs in the United States. According to the National Coalition Against Domestic Violence, of the 1 in 15 children exposed to the brutality, 90 percent of them have witnessed it firsthand.
During the week of Monday, October 16 to Thursday, October 19, Saint Xavier Council (SXC) observed the National Week of Action by hosting events to bring awareness to domestic violence. SXU students, faculty and staff were encouraged to educate themselves on resources and show support to survivors. "Purple Thursday," was an event that garnered the interest of multiple SXU community members, who displayed the color purple--which represents domestic violence--and gathered in the Shannon Center to stand together against abuse. Members of SXU and Dr. Tony Campbell, vice president of student affairs and dean of students, gave speeches and made a pledge to work against intimate partner violence. Those in attendance also received purple carnations, to symbolize SXU's stance against domestic violence.
---