/
/
/
'Ending Human Trafficking' presentation at SXU's Squeaky Weal Lecture series
'Ending Human Trafficking' presentation at SXU's Squeaky Weal Lecture series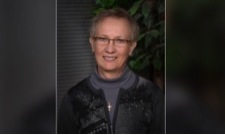 Human trafficking is today's tragic form of slavery and a devastating reality for many people around the world. Religious Sisters are among the leaders in efforts to raise awareness, rescue victims, and eliminate this abuse in the world. Saint Xavier University (SXU) proudly welcomes Sister Jeanne Christensen, RSM, to serve as the keynote speaker for the 2017 Squeaky Weal Lecture series on Thursday, February 23 from 6:30 to 8 p.m. in the Warde Academic Center's Butler Reception Room located on SXU's Chicago campus, 3700 West 103rd Street. This event is free and open to the public.
Her presentation entitled, "Ending Human Trafficking" will display Sister Christensen's vast knowledge and advocacy work concerning this crisis and the efforts to end it.
Sister Christensen is a Justice Advocate for Human Trafficking for the Sisters of Mercy of the Americas. She serves on the Board of Directors of U.S. Catholic Sisters against Human Trafficking and chairs the educational resources group. Sister Christensen also works to educate the public on the issue of trafficking and efforts toward a solution.
This event has generated some attention from media outlets, including:
Daily Herald (print edition)
Mount Greenwood Express (print edition)
Daily Southtown
CBS Local Events
Everyblock
The Squeaky Weal Lecture Series, sponsored by Saint Xavier's Center for Religion and Public Discourse, provides occasions for thoughtful consideration of issues of public concern, with a focus on religious, moral, and/or ethical implications for the common good. For more information, please contact the Center for Religion and Public Discourse at 773-298-3809.
---