SXU Faculty Senate's statement on DACA Recision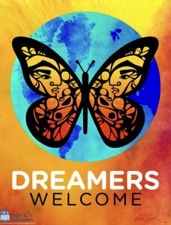 Statement from the Faculty Senate on DACA Recision
Saint Xavier University
September 19, 2017
We affirm the statement of Laurie M. Joyner, President, Saint Xavier University, on DACA, and we seek to amplify President Joyner's message here:
President Trump has stated that he will make an announcement today concerning the future of the Deferred Action for Childhood Arrivals (DACA) program. News reports indicate that President Trump will put into motion a plan to end the DACA within six months. Saint Xavier University and the Sisters of Mercy have taken a stand against the termination of these programs, and the University will do all we can to support those impacted by today's announcement. Please know that DACA students, like all of our students, are important and valued members of our campus community.
Fortunately, the six-month time period will give Congress an opportunity to create legislation designed to maintain DACA. Already, House and Senate leaders on both sides of the aisle have spoken out in support of DACA and against any decision by the President to terminate the programs . . . .
We are a nation built on the talents and gifts of the many immigrants that have come to our shores. Our core values of respect, excellence, compassion, service, hospitality, integrity, diversity and lifelong learning call us to stand as a united community in support of undocumented and DACA students.
We also embrace the statement of the Sisters of Mercy of the America's in response to the precarity of DACA:
We will not stand by as DACA recipients and their families, as well as other undocumented immigrants and vulnerable groups, are scapegoated and blamed for the economic and social problems facing this country.
In solidarity with our founding order, the Sisters of Mercy, and our university president, we, the faculty of Saint Xavier University condemn the termination of DACA. The faculty are dedicated to the education of all of our students regardless of their immigration status and we urge Congress to either reinstate DACA or work quickly through bipartisan cooperation to establish compassionate immigration reform, including a more permanent path to citizenship for these young Americans.
Signed,
Faculty Senate, Saint Xavier University
---