SXU's Sixth Annual Fire Up A Cure featured in DNAinfo and Daily Herald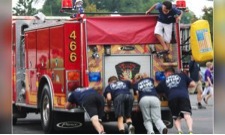 In just a few short weeks, hundreds will be coming to Saint Xavier University (SXU) for the Sixth Annual Fire Up A Cure event on July 22. This one-of-a-kind event brings together nearly 20 teams of firefighters from across Illinois competing in a series of challenges such as a fire truck pull, inflatable jousting, tug-of-war, dodgeball tournament, and more; all to raise awareness and funds for pediatric cancer clinical research trials. Courageous pediatric cancer patients and survivors will serve as honorary coaches to the local firefighters. Competitors, coaches and community members will come together to join in support and celebration for champions of all sizes!
The event was previewed in both DNAinfo Chicago and Daily Herald. For more information, please contact Amy Kazmierowicz at (773) 954-8401 or amy@cureitfoundation.com.
---