/
/
/
SXU's Football alums huddled together for afternoon brunch at Gilhooley's
SXU's Football alums huddled together for afternoon brunch at Gilhooley's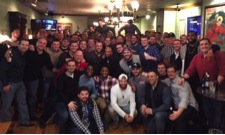 College football produces unbreakable bonds between the team and the community, as well as the players themselves. For the Saint Xavier University (SXU) Cougars, this bond is always present. On Sunday, February 12, the SXU football team huddled together to celebrate the retirement of Assistant Coach Mike Slovick and to mourn the loss of alum AJ Nichols.
In an overwhelming show of support, football alumni, coaches, family members, and friends joined Saint Xavier's football team with over 90 people in attendance, in true Cougar spirit. Once a Cougar, always a Cougar; it is this bond, which fuels exceptional pride and encourages student athletes to be active community members who frequently volunteer through programs and charities.
During this gathering, Head Football Coach Mike Feminis, remarked "AJ's unexpected passing creates a hole in the heart of every one of his teammates, coaches and fellow SXU football alums."
AJ Nichols was a dedicated athlete. At 27 years old, he passed away unexpectedly last week. From 2008 to 2011, Nichols played football for the SXU Cougars, as a kicker and punter. He was a senior in 2011 when the Cougars won the NAIA Football National Championship. His teammates and coaches are grateful to have known AJ, and as they mourn together, they also celebrate his life as an amazing student athlete. For more information on AJ's spirit and legacy at SXU, visit the Athletics webpage.
Mike Slovick has been a part of the Cougar football program for 12 seasons. He began in 2004, after spending 11 seasons as head coach at University of St. Francis. Serving as SXU's special teams coordinator and cornerbacks coach, Slovick was part of the 2011 national championship team. In 2010, he was named Mid-States Football Association (MSFA) Mideast League Assistant Coach of the Year. Coach Slovick is deeply appreciated by SXU's football program, and the Cougars wish him the best in his retirement.
---