SXU's Gilhooley's Grande Saloon becomes South Side dining hotspot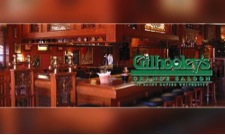 The South Side has spoken, Saint Xavier University's (SXU) new and improved Gilhooley's Grande Saloon is a hit! Since SXU's new dining service Country House Kitchen took over, business has been booming with great reviews from the University and the general public. The family-owned company credits its success to their locally purchased ingredients, made from scratch dishes, and new services.
"We have really noticed that Gilhooley's has become a spot for everyone—students, families, people of all ages," said Paul Boundas, owner and executive chef of Country House Kitchen.
Since Country House Kitchen was founded in 1972, it has been their mission to buy fresh products from local businesses and serve delicious meals made from scratch.
"We take great pride in our food and service, and we cannot thank our patrons enough for supporting us," said Boundas.
During the re-launch, Country House Kitchen made it a priority to serve lunch everyday. The routine, paired with their pre-call program, which allows customers to call in a dining order ahead of time and be served when they arrive, has attracted many fans.
Country House Kitchen is also proud of The Heritage Room, a private room in the restaurant, perfect for any celebration, including showers, surprise parties, and family gatherings. To book an event please 773-233-2200 or email gilhooleysFREESXU.
With some experience under their belt, the food service is looking forward to offering a variety of events.
"Now that we have really begun to get in a groove we have many plans for the upcoming year," said Boundas. "On the list are wine and beer tastings, live entertainment, and an upgrade to the patio for outdoor dining. I'm sure we all can't wait for Al Fresco drinking and dining."
To learn more about the menu for Gilhooley's, visit the website.
---