/
/
/
SXU's Annual Golf Classic raises over $124,000 in support of student scholarships
SXU's Annual Golf Classic raises over $124,000 in support of student scholarships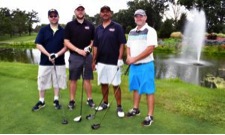 Saint Xavier University (SXU) recently raised more than $124,000 at its 21st Annual Golf Classic on Tuesday, August 1 at Silver Lake Country Club in Orland Park. More than 170 golfers contributed to enjoy a day on the green and a record-setting number of University faculty and staff joined the golfers to attend the reception and dinner. All proceeds from this highly popular event support SXU student scholarships and since its inception, SXU's Golf Classic has raised over 1.32 million dollars.
In addition to playing an 18-hole round of golf, participants were treated to breakfast, lunch and a hearty buffet dinner. The evening was emceed by Jim Flannigan, whose quick wit and smart humor have made him a mainstay at the top comedy clubs around the country including Zanies, The Improv, The Laugh Factory and Brad Garrett's Comedy Club in Las Vegas. In 2016, he performed at some of the biggest comedy festivals in the country including Gilda's LaughFest and The Great American Comedy Festival. He has appeared on ABC, WGN and WCIU-TV and co-hosts the official Chicago White Sox podcast, The Cycle.
SXU students sold tickets throughout the day for exclusive raffle prizes including electronics, overnight trip packages, and golf gear. The presenting sponsor for this event was Henry Bros. Co.
"We wish to extend our most sincere and heartfelt thanks to all the generous sponsors, donors, volunteers and golfers who helped provide scholarship to Saint Xavier University's most deserving students through this wonderful event," said John Bass, associate vice president of University Advancement.
Plans are already underway to host the 22nd Annual Golf Classic on Tuesday, August 7, which is sure to be a success - you won't want to miss it! For more information, call 773-298-3748 or visit SXU's website.
---