SXU announces Greg Gorham as Associate Director for Sports Information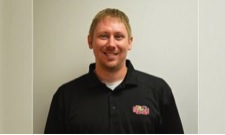 Saint Xavier University (SXU) Athletics and Athletic Director Bob Hallberg announced the hiring of Greg Gorham as associate athletic director for sports information (SID), who joined the institution Thursday, August 17.
Gorham comes to SXU after four years as the SID at Trinity International University, where he developed a newly designed athletic website, along with increased video and social media content for the fellow Chicagoland Collegiate Athletic Conference (CCAC) program.
"I am very pleased to have Greg join out staff," said Hallberg. "Our search committee was very impressed with his background, and he will assist with some of the athletic administration responsibilities. His having worked at a Chicagoland school has made for an easy transition," as Gorham fills in for longtime SXU SID Rob Huizenga.
Gorham is a 2009 graduate of Southwest Baptist University (Mo.), and earned his master's degree in athletic administration from the University of Central Missouri in 2013. A native of Coatesville, Ind., Gorham currently resides in Waukegan with his wife, Sarah.
---