/
/
/
Gift of giving: GSM aids Hurricane Harvey victims after media spotlight diminishes
Gift of giving: GSM aids Hurricane Harvey victims after media spotlight diminishes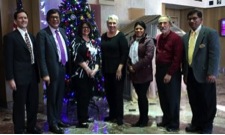 The season of giving is quickly approaching. While many are going to be concerned about what gifts to buy, others are giving back to those less fortunate. But, who do you give to? Well, for faculty and staff at the Graham School of Management (GSM) at Saint Xavier University (SXU) that choice was easy. As the media spotlight diminished, who is left to support those impacted by Hurricane Harvey?
Continuing in its mission and the tradition of the Sisters of Mercy, the faculty and staff of the GSM are reaching out to the victims of Hurricane Harvey in Texas. To that end, GSM has partnered with Southwest Schools, a choice-based Texas education district in Houston.
As part of the first phase of providing assistance, GSM, under the leadership of Acting Dean Faisal Rahman, Ph.D., and Assistant Professor David Parker, J.D., has raised in excess of $1,500. The money will be used by the school district to assist families of students who have lost everything to purchase basic necessities. Janelle James, superintendent and chief executive officer of Schools for Southwest, in an email stated, "The timing of your offer to assist our high school is karma and will be helpful to students' families under the "Southwest Cares" program."
Officials from the Texas school district will be coming to Chicago this month to begin discussion on a collaborative relationship for year-round assistance program between the two entities. It should be noted that 85 percent of Southwest Schools' students come from economically disadvantaged families and the mission of the school is to help the most at-risk and troubled youth learn, grow and succeed by providing assistance and resources.
SXU's GSM is an Association to Advance Collegiate Schools of Business (AACSB) accredited (only five percent among business schools in the world) program which offers both undergraduate and graduate business degrees. SXU, founded by the Sisters of Mercy in 1847, is a Catholic, coeducational, comprehensive university located in Chicago but offering its programs in its main campus and several other locations.
For more details, please email Dean Rahman (rahmanFREESXU) or Professor Parker (parkerFREESXU) or call Kathy Roberts at Graham School at 773-298-3600.
---