GSM kicks off 'Alumni Week' with lecture by Alex Pollock on March 20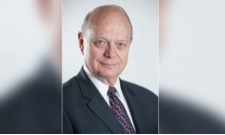 Saint Xavier University's (SXU) Graham School of Management (GSM) will kick off its "Alumni Week" March 20 through March 24 with a special keynote lecture featuring R Street Institute Senior Fellow Alex J. Pollock on Monday, March 20 at 5 p.m. in Andrew Lecture Hall Room 120. His lecture is titled, "Boom and Bust of Financial Cycles and Human Prosperity: What We Can Expect from Future Financial Cycles." This event is free and open to the public.
Pollock is a distinguished senior fellow and financial systems studies director with R Street Institute, where he works on policy issues relating to mortgage finance; banking; the Federal Reserve; government-sponsored enterprises; retirement finance; corporate governance; and the role of risk and uncertainty in financial systems.
Before joining R Street Institute, he was a resident fellow at the American Enterprise Institute (AEI), focusing on many of the same issues. Before joining AEI, Pollock was president and CEO of the Federal Home Loan Bank of Chicago from 1991 to 2004. A prolific writer and speaker, he has also testified before Congress on numerous financial issues.
Pollock serves as a director of the CME Group, the Great Lakes Higher Education Corporation and the Great Books Foundation, where he was chairman of the board from 2006 to 2014. He is a past-president of the International Union for Housing Finance and a member of the Business Advisory Council at SXU's Graham School.
He has a M.P.A in international relations from Princeton University, a M.A. in philosophy from the University of Chicago and a B.A. from Williams College.
As a continuation of "Alumni Week," GSM invites its alumni network to come back to campus as guest speakers in undergraduate business classes, where individuals can share stories about their professional experiences. This Week will conclude with GSM's Third Annual Economic Summit on Friday, March 24 from 7:30 to 9 a.m. in the Metropolitan Club's East Room, on the 67th floor of the Willis Tower, 233 South Wacker Drive, Chicago.
For more information, please contact Nick Mancari at 773-298-3603 or mancariFREESXU.
---