SXU's Graham School of Management hosts Third Annual Economic Summit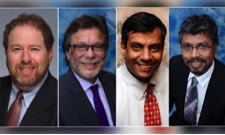 Under a Trump presidency, will the U.S. economy soar or crash with his policies? Is our economy ready for higher interest rates? Should investors run for the hills in fear of 1930s style protectionist policies that could damage global trade? Learn the answers to these pressing questions and more at the Third Annual Economic Summit presented by a team of economists from Saint Xavier University's (SXU) Graham School of Management (GSM) and the Federal Reserve Bank of Chicago, and hosted by Graham School of Management (GSM). This informative Summit will take place on Friday, March 24 from 7:30 to 9 a.m. in the Metropolitan Club's East Room, on the 67th floor of the Willis Tower, 233 South Wacker Drive, Chicago.
The Summit will be moderated by SXU's professor of finance, Dr. Monzurul Hoque. Summit panelists include the following: William Strauss, senior economist and advisor for the Federal Reserve Bank of Chicago, Dr. Indranil Ghosh, associate professor of economics at GSM, and Dr. Faisal Rahman, dean emeritus and professor of economics at GSM.
Each panelist will offer their insights into the latest economic and financial events and policy shifts in the U.S. markets. They will also assess how recent forecasts fit into our expectations for economic trends and policy changes and provide snapshots of the latest data as well as upcoming market events. A brief Q&A will take place immediately following the presentations.
"We're honored that Dr. Faisal Rahman could join us for the first time this year and William Strauss is returning for this timely panel discussion," said Dr. Asghar Sabbaghi, dean and professor at GSM. "We anticipate new policies through the Trump Administration that will affect economic and market shifts. We're so pleased to share the expertise of our outstanding faculty who will provide exceptional insight regarding future economic trends."
The panel of economists will focus on the uncertainty that we are seeing in international economies, the health care sector, and in the local economic regions. They will analyze how recent trends fit into our expectations for economic indicators and policy changes.
During the discussion, William Strauss will analyze the overall macro economy performance with specific attention paid to key economic sectors and indicators for the U.S. economy over the next couple of years.
William Strauss joined the Federal Reserve Bank of Chicago in 1982. As a senior economist and advisor, he is responsible for analyzing the current performance of both the Midwest economy and the manufacturing sector for use in monetary policy. He produces the monthly Chicago Fed Midwest Manufacturing Index and organizes the Bank's Economic and Automotive Outlook Symposiums. Strauss holds Bachelor of Arts degrees in economics and geography from the State University of New York at Buffalo, and a Master of Arts degree in economics from Northwestern University.
Dr. Indranil Ghosh's presentation will analyze the growth and development of regional cluster formations in the Chicagoland area as well as the economic performance of industries that make up these clusters. His presentation will identify these groups or agglomeration of closely related and complementary industries as well as the synergies that these clusters promote.
Dr. Ghosh is an associate professor of economics at Graham School of Management. He earned his Ph.D. and M.A. in economics from the Southern Methodist University in Dallas, Texas. Dr. Ghosh is currently working on three research studies: Referenda and the Provision of Public Goods; Auction Mechanisms to allocate players – The Indian Premier League; and A Comparison of Online versus In Person Delivery of an MBA level Managerial Economics Class.
Dr. Faisal Rahman's presentation will analyze the $3 trillion U.S. health care market with special emphasis on recent developments. Some critical issues and innovations in health care will be analyzed in a global context.
Dr. Rahman is a professor of economics and dean emeritus of the Graham School of Management at SXU in Chicago. Currently, he is also president and CEO of the APAC group of healthcare companies focused on outpatient surgery and chronic pain management clinics. He has held a variety of high-level corporate and academic positions, and is a published author of texts and articles in leading journals. Dr. Rahman has served as an advisor to the city of Chicago and worked with the World Bank on projects in developing countries. In addition, he has served on the Boards of Chambers of Commerce and Economic Development Commissions.
Dr. Monzurul Hoque (moderator) is a professor of finance and chair of the Graham School's Department of Economics, Finance, and Quantitative Analysis. He earned his Ph.D. from the University of Illinois in economics and a M.S. in finance from the University of Illinois, Urbana, Champaign. Dr. Hoque is the past president of the Academy of Finance. Currently, he serves as the editor of Journal of Finance Issues and a guest editor of Managerial Finance. He has published more than 40 articles in reputed journals like Journal of Risk and Insurance, Managerial Finance, among others.
If you would like to attend our Economic Summit, please fill out the registration form. For more info or if you have any questions, please contact Nicholas J. Mancari at 773-298-3603 or mancariFREESXU.
---