SXU alumna Amanda Holmes named Fulbright Award recipient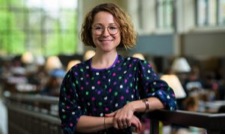 Saint Xavier University (SXU) is pleased to announce that alumna Amanda Holmes has been chosen as the recipient of the U.S. Fulbright Research Award. She was raised in numerous states, including Michigan, Georgia and Missouri, and has traveled internationally as well. Holmes will be relocating to Slovenia for the 2017-2018 academic year, where she will be conducting research at the Ljubljana School of Psychoanalysis for her dissertation.
"Amanda demonstrates academic excellences, professional achievements and embraces the SXU Sisters of Mercy core values," said Dr. Zepure Samawi, professor and associate dean for undergraduate nursing at SXU. "She will be a great asset and ambassador as an SXU alumna."
The Fulbright Program was started in 1946 and is sponsored by the government of the United States. For over 70 years, it has provided the opportunity for Americans to study, teach and conduct research, share ideas and open dialogue across borders. The international educational exchange program serves to connect nations through knowledge.
Holmes graduated from SXU in December of 2010, with a Bachelor of Arts degree in philosophy, and then went on to obtain her masters from Miami University of Ohio. She is currently pursuing her doctoral degree from Villanova University. For the past two years, she has resided in Berlin, Germany. Her reason for moving abroad was due to the importance of learning the German language for her research. In her time at SXU, Holmes was in the Honors Program. Professors remember her intellectual presence and the impact it had on their classes.
SXU's Department of Language and Literature Associate Professor Mary Beth Tegan recalls, "Amanda's suitability for scholarly pursuits was apparent from her early days at SXU. She took a gender studies course with me back in 201 - front row as always, I suspect - and raised the level of classroom discourse considerably with her thoughtful responses to readings and discussions. Amanda's writing was always imbued with her candor and acuity - one can easily imagine the person behind the text while also recognizing the care she takes with others' perspectives and ideas. She has done, and will continue to do, this institution proud!"
As a first-generation college student, Holmes felt her identity was important and complicated, but ultimately a strength. Her outstanding qualifications allowed her to receive the grant for her project entitled, "The Structure of Anxiety and the Status of the Object: Kant, Heidegger, Lacan." The dissertation studies the connections of phenomenology and psychoanalysis to better understand reasoning and its tie to negativity.
"The Fulbright Research grant in Ljubljana, Slovenia will allow me to situate my research within a significant and unique community of philosophers at the forefront of European thought," said Holmes. "After completing my dissertation, I will be in a position to facilitate the growing reception of this so-called Ljubljana School of Philosophy in the American Academy. This opportunity will also, hopefully, help me be a dynamic, engaged and committed professor of Philosophy, like those I had at SXU."
Holmes thinks of SXU as an important step in her journey, as it prepared her well for her future endeavors.
"The professors in the Philosophy Department and in the Honors Program at SXU were great teachers, supportive mentors, good friends and ultimately really important role models for me."
To apply to the Fulbright U.S. Student Program, please go online.
---