Saint Xavier to host 2017 Homecoming Week Celebration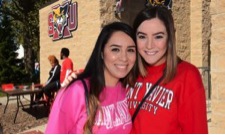 The Saint Xavier University (SXU) community is preparing for yet another exciting, spirit-filled week of activities and events for its 2017 Homecoming Week, which will take place from Saturday, September 24 to Saturday, September 30. SXU is delighted to invite students, alumni, faculty, staff and friends to enjoy the festivities on the Chicago campus, 3700 West 103rd Street.
The Homecoming Liturgy and Spirit of Saint Xavier Awards will be the start to Homecoming Week, and will take place on Sunday, September 24 at 10 a.m. in SXU's McDonough Chapel. Here, the following alumni will be honored: Magdalen "Midge" Ward '50 (Spirit of Saint Xavier Award); Brian Swift '84 (Sister Dorothy Marie Peschon '19 Award); and Carol Bradtke '10 (Rita A. Ford '98 Faith in the Future Award).
The Academic Distinguished Alumni and the O'Brien Student Leadership Awards are scheduled for Tuesday, September 26 at 6:30 p.m. in SXU's Warde Academic Center's Butler Reception Room. Nearly 100 guests are expected to be in attendance, whose presence will honor the remarkable alumni and students who have embraces the core values and Mercy mission to impact SXU.
Spirit of Mercy Day will be celebrated at noon in McDonough Chapel on Wednesday, September 27. The Saint Xavier University community joins in prayer, faithful to its Catholic Mercy heritage and in anticipation of the inauguration of Dr. Laurie Joyner to be held on Friday, September 29.
Students Today, Alumni Tomorrow (STAT) Service Project: Brown Bag Project will take place on Wednesday, September 27 in SXU's Diner Atrium starting at 4:30 p.m. All are welcome to stop by and contribute to sandwich making efforts in conjunction with PORT Ministries, which serves those in need from the Back of the Yards neighborhood. In addition to donating time, donations of supplies such as: peanut butter, jelly, snacks, sweets and juice pouches, or monetary donations are always appreciated. If you would like to help or donate, please contact alumniFREESXU or call 773-298-3316.
Cougars Connect: Career Networking which will be held on Thursday, September 28at 7 p.m. in SXU's Butler Reception Room, is a chance to meet alumni from all fields, majors and disciplines to find out their secrets to success after graduation. This event is open to all majors and levels and there will be free pizza!
The Class of 1992 Reunion will be welcoming graduates on Friday, September 29 at 7 p.m. in SXU's Warde Academic Center's Fourth Floor Boardroom to celebrate and reconnect after 25 years. A Week Back will provide live entertainment, and there will be a cash bar to purchase drinks. Online registration is $20, and will be bumped up to $25 at the door. The cost includes food and soda.
The Class of 1967 Reunion is a 50th reunion celebration that will be held on Friday, Sept. 30and continue through Saturday, September 30. It will begin at noon on Friday with a mass in McDonough Chapel, followed by a gathering in SXU's Butler Reception Room at 1 p.m. After the 2:30 p.m. campus tour, the Gold Graduates can relax until 5 p.m., when the cocktail reception begins at the Ridge Country Club, followed by dinner at 6 p.m. Those in need of hotel accommodations can obtain discounted rooms through The Hilton in Oak Lawn for $139 per night. Questions can be directed to alumniFREESXU.
17th Annual Cougar 5K Run/Walk begins at 9 a.m. on Saturday, September 30 on SXU's Chicago campus. Hundreds of students, staff, faculty, alumni and community members will take to the pavement for this signature South Side tradition. Immediately after the run, the Cougar's Corner Tailgate Tent and Family Fun Zone commences at 11 a.m. on the Bruce R. Deaton Memorial Field. There will be plenty for everyone at this event, including: bounce houses and face painting for kids! Admission is $15 with an online registration $20 at the door (21+), and includes food and soft drinks, as well as two drink tickets for alcoholic beverages. Children 12 and under accompanied by an adult are free.
Homecoming Football Game: SXU vs. Taylor University is set to kick off on Saturday, September 30 at 1 p.m. on the Bruce R. Deaton Memorial Field. Come join as students, staff, faculty and community members cheer on SXU's Cougars as they take on Taylor University.
For more information about upcoming alumni events, please contact the Office of Alumni Relations at 773-298-3316 or email at alumniFREESXU.
---