Saint Xavier University hosts author signing on March 18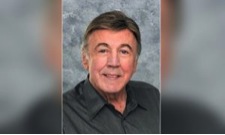 Saint Xavier's (SXU) School of Education proudly presents Life with No Words: A Book Signing by Alby Lee Lewis, father of Dr. Jaclyn Murawska, assistant professor of mathematics, on Saturday, March 18 from 3 to 5 p.m. in Warde Academic Center's Butler Reception Room, 3700 West 103rd Street. This event is free and open to the public. Light refreshments will be served.
Life with No Words is a touching autobiography of a remarkable man who overcame overwhelming odds to achieve success in life. The story portrays some sad realities, but also shows the humorous aspects of Lewis' life. It is a personal story of coping with and overcoming dyslexia.
Dr. Meg Carroll, professor of education, and Dr. Tara Joyce, associate professor of education, will provide information on dyslexia.
A limited number of books will be available for purchase at the event. Paperback and hard cover books can be purchased in advance at either Lulu or Amazon.
For more information on the event or author, please contact Dr. Jaclyn Murawska at 773-298-3398 or murawskaFREESXU.
---