/
/
/
SXU hosts 'The Yellowstone Project' for students during 2018 spring break
SXU hosts 'The Yellowstone Project' for students during 2018 spring break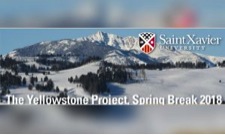 Saint Xavier University (SXU) is now taking applications for students interested in partaking in "The Yellowstone Project" scheduled for the week of spring break (March 4 through 10). This is a great opportunity for students to plan to take part in six days of field work in the remarkable landscape of Yellowstone National Park.
Yellowstone Park in the last two weeks of winter is still a world defined by snow. Most of the roads in the park are closed so the summer crowds are still months away. The deep snow in the high mountains has driven the wildlife down into the valleys. The migrating bison and elk are followed by the wolves as the drama of predation is played out in Yellowstone's Lamar Valley.
Students will be guided and instructed by leading naturalists and environmentalists who live and work in the Yellowstone area, and accompanied by two SXU faculty members. In addition to scientists and environmentalists, students will meet with local ranch families to hear about their views about migrating bison and predatory wolves. Students are encouraged to develop individual research projects in either the biological sciences (Dr. Elmendorf) or political philosophy (Prof. Thorp).
Admission into this program will be very selective, as there are only 12 spaces allotted for students. All SXU students are eligible to apply. All participants must enroll in HON 320 for the spring 2018 semester. Students will be housed in dormitory style rooms in a large modern cabin. Students will participate in preparing group meals reflecting principle of sustainable agriculture. The activity level for this program is ranked high - some moderate to strenuous hiking, snowshoeing or cross-country skiing will take place daily. Interested students need to be physically fit.
The program cost is $985 per student and includes: lodging, three meals per day and on-site transportation. Round-trip airfare is not included in the program cost, but is estimated to be approximately $700 per student.
To apply or for additional questions, please contact Program Director and Professor of Philosophy Thomas Thorp, Ph.D., at yellowstoneFREESXU.
---