IBEW -- Local 134 union creates scholarship fund for SXU students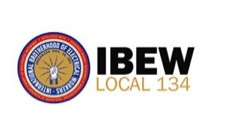 'Tis the season of giving back and making charitable efforts among family and friends and even within the community. However, the gift of paying-it-forward doesn't just happen during the holidays, but year-round. The International Brotherhood of Electrical Workers (IBEW) -- Local 134 have recently amended their endowment fund for student scholarships at Saint Xavier University (SXU), which was originally established in 2005.
IBEW believes in the power of an education and would like to support SXU students to take their first steps toward their futures without carrying a heavy financial burden. With that, the union initially contributed $20,000 to be used as a student scholarship fund. As of June 30, 2017, the fair market value of the fund was $25,387, where $1,200 is available for distribution for a student scholarship award during SXU's fiscal year 2019 (being July 1, 2018 to June 30, 2019).
The scholarship criteria is as follows:
Candidates must be enrolled as full-time (12 credit hours or more per semester) student(s);
A preference will be given to candidates who demonstrate that either or both of their parents are current or retired members of the IBEW -- Local 134. Greater preference will be given to any candidate who demonstrates that either or both of their parents are/were members of the IBEW -- Local 134, but are deceased at the time of the candidates application for this scholarship award;
Candidates must have a minimum grade point average (GPA) of at least 2.75 on a 4.0 scale;
Candidates must be a senior at the time the scholarship award is disbursed; therefore, candidates should apply for this award during their junior year;
Preference will be given to candidates who demonstrate financial need;
Candidates must provide one letter of recommendation from a faculty member who had the candidate in one or more of their courses;
All candidates will be considered for the scholarship award regardless of age or if they are a transfer student(s).
Scholarship award(s) will be for one academic year only and are not renewable.
For more information on how to apply, please contact either the Office of University Advancement at 773-298-3940 or advancementFREESXU; or the Office of the Provost at provostFREESXU.
---