SXU inaugurates Laurie M. Joyner, Ph.D., as 20th president tomorrow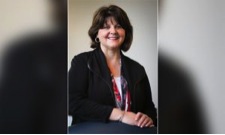 Saint Xavier University (SXU) will celebrate the official inauguration of Laurie M. Joyner, Ph.D. as its 20th president on tomorrow, Friday, September 29 at its Chicago campus, 3700 West 103rd Street. More than 500 guests including delegates, board of trustee members, Sisters of Mercy, faculty, staff and students are expected to gather in the Shannon Center's Main Arena for the 10 a.m. Installation Ceremony. This Ceremony will also be open to the public.
A procession of delegates in academic regalia will depart from the SXU Warde Academic Center's S-Wing at 9:45 a.m. into the Smith-Morris Quad. A symbolic journey connecting SXU's rich 171-year history to today's modern campus will take place as the delegates process through the Quad under the original 49th Street Gateway arch to the north doors of the Shannon Center.
Dignitaries scheduled to date include: Illinois State Senator (18th District) Bill Cunningham, Illinois State Representative (36th District) Kelly Burke, Cook County Commissioner John P. Daley, and 19th Ward Alderman Matt O'Shea along with many delegates from other colleges and universities.
Dr. Joyner's inauguration will mark a high point of SXU's Homecoming week celebration falling on the eve of the homecoming football game. Earlier in the week, SXU will host an Inauguration Liturgy during the Spirit of Mercy Day Mass on Wednesday, September 27 at noon in McDonough Chapel of the Mother of Mercy where President Joyner and the presidential medallion will be blessed in anticipation of the September 29 installation ceremony.
Dr. Joyner began her presidency on January 1 of this year bringing extensive leadership experience to the University. She was most recently president of Wittenberg University in Springfield, Ohio. Before that, she served in multiple vice presidential and decanal roles at Rollins College in Winter Park, Florida. Prior to Rollins, Dr. Joyner served on the faculty and held administrative positions of increasing responsibility at Loyola University New Orleans from where she holds a bachelor's degree in sociology. Dr. Joyner received her master's and doctoral degrees in sociology from Tulane University.
For more information, please visit SXU's website or contact SXU's Office of Special Events at specialeventsFREESXU.
---