SXU's Ludden Clinic receives $25K grant from Brach Foundation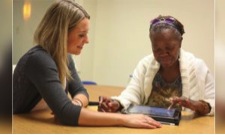 Saint Xavier University's (SXU) Ludden Speech and Language Clinic was generously gifted with a $25,000 grant from the Helen V. Brach Foundation, a cherished longtime supporter. This gift is vital to the continuation of no-fee services and programs that the Ludden Clinic offers to South Side families impacted by communication disorders related to language delays, phonology/articulation, aphasia, hearing, stuttering, traumatic brain injuries, and fluency.
Ludden Clinic Director Pamela Klick is pleased to receive the grant on Ludden's behalf because "the funds make it possible for the clinic to provide services to the community."
Through a partnership project with A.E.R.O. Special Education Cooperative, the Clinic also provides individual, group, and vocational therapy to college-age students who have severe communication disorders requiring the use of augmentative and/or alternative communication solutions.
The Clinic serves more than 1,000 community residents each year through its on-campus and off-site programs; financial subsidization makes these services available. SXU students directly benefit from the Ludden Clinic as well; undergraduate and graduate students preparing for careers in Communication Sciences and Disorders observe and participate in the screening, diagnosis, and treatment of clients under the supervision of certified and licensed speech-language pathologists.
The Ludden Clinic's commitment to the health and well-being of children and families, including those with limited financial resources, is an outward expression of SXU's core values of compassion, service, and respect. The Brach Foundation and the Ludden Clinic are delighted to continue the legacy of service begun by Sister Mary Antonine Ludden, R.S.M., in 1959.
For more information on the Ludden Speech and Language Clinic, please visit SXU's website.
---