SXU hosts Annual March for Babies 5K Walk on April 30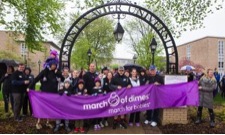 Saint Xavier University (SXU) will be welcoming its community and local supporters to join the Annual March for Babies 5K Walk on Sunday, April 30 beginning at 8 a.m. on SXU's Chicago campus, 3700 West 103rd Street. For the third consecutive year, SXU is proud to host the family-friendly walk.
"Community service is a core value at Saint Xavier University and the March of Dimes March for Babies 5K Walk raises funds to provide services locally to improve the health of babies by preventing birth defects, premature birth, and infant mortality," said Beck Copper-Glenz, associate provost for graduate and continuing education. "Saint Xavier's sponsorship of this March of Dimes event reflects our University's commitment to service, excellence and making a difference in the lives of others."
The event expects to bring 2,000 participants to Chicago's South Side and has a fundraising goal of $250,000. Last year's 1,000 participants raised a generous $240,000 for the cause. Wintrust, Advocate Children's Hospital, Napleton Automotive Group, and Ingalls Memorial Hospital have all stepped up as local sponsors for the walk.
Nationally, more than three million people in over 500 communities participate in March for Babies walks. Across Illinois, there are nearly 20 walks with approximately 20,000 people who participate each year. Proceeds from the walk fund community programs, advocacy efforts and research to help prevent premature birth, birth defects and infant mortality. Parents and children have benefited from March of Dimes research, education, vaccines, and breakthroughs since 1938.
March for Babies is the signature fundraiser for the March of Dimes. Throughout the event participants help communities bring awareness to the tremendous health challenges that babies and their families face daily.
Those who wish to volunteer or participate in the March for Babies 5K at SXU can visit the event's website.
About March of Dimes
March of Dimes works to improve the health of babies through lifesaving research, community-based programs and advocacy. For more than 75 years, moms and their babies have benefitted from the March of Dimes research, education, vaccines, and breakthroughs. To find out more about the March of Dimes and how to raise funds and awareness to prevent premature birth and birth defects visit their website.
---