SXU MBA student supports community fundraiser on September 17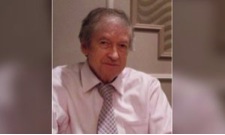 Saint Xavier University (SXU) works to instill a sense of service within each and every one of its students. For one Graham School of Management's (GSM) Master of Business Administration student, Frank Shields, upholding a passion for service stems from a personal connection.
In September 2010, Shields had emergency gall bladder surgery. After a two-week stay in the hospital, he was diagnosed with Idiopathic Pulmonary Fibrosis and was placed on supplemental oxygen around the clock. After his in-home recovery, Shields entered the pulmonary rehab program at Christ Hospital in Oak Lawn, Ill. As time went by, he required an incremental amount of oxygen and routine daily activities became challenging at best.
His doctors then recommended the formal evaluation process to determine if Shields could be a viable lung transplant candidate. He was subsequently approved and was listed for a double lung transplant. After a five month wait, Shields underwent a successful bilateral lung transplant at the University of Chicago Medical Center in July 2012.
He currently is a member of Organ Transplant Support and also attends the monthly Easy Breathers Support Group at Christ Hospital Medical Center. Shields also attends the monthly support groups at University of Chicago Medical Center. Additionally, he works with Respiratory Health Association (RHA) as advocate champion to work in conjunction with legislators on lung health concerns and clean air issues.
Shields appreciates the dedication of his doctors, nurses and transplant team, and as a result, has made a conscious effort to give back and support those whose story isn't too far from his own. In 2013, he joined Second Wind Lung Transplant Association and in 2014, he became a board member and accepted the position of vice president.
"For the past three years, I have been the team captain representing Second Wind Lung Transplant Association at the Hike for Lung Health fundraiser, a multi-charity walk that raises awareness and funds for lung disease," said Shields. "The funds raised by myself and fellow team members will be used to fund Second Wind Lung Transplant Association's Financial Assistance Program, which is used to help its members with transplant related expenses that their insurance doesn't cover."
This year's Hike for Lung Health fundraiser will be held in Chicago's Lincoln Park on Sunday, September 17 at 10 a.m. This is a family-oriented event where participants can walk one mile, a three-mile path or just come out to show support and cheer on a team. This event is sponsored by the RHA of Chicago. Twenty-five percent of the proceeds from this event go to RHA for lung health research and education and the remaining 75 percent of the money goes directly to the participating charities.
To register or donate for Hike for Lung Health, please go online. For more information on Second Wind Lung Transplant Association or join their team, please visit their website.
---