/
/
/
SXU student veteran Conor McHale meets Chicago Blackhawks' Patrick Kane
SXU student veteran Conor McHale meets Chicago Blackhawks' Patrick Kane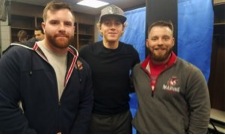 Saint Xavier University (SXU) is grateful for the contributions of its student veterans, from their sacrifices to their scholastic success. SXU's Student Veteran Alliance (SVA) has made a positive impact on the institution and the community through their programs and discussions. This is why SXU is proud to applaud Conor McHale, a student veteran, on his recent work with the Chicago Blackhawks. As a tribute to his service, McHale was invited to a home game and asked to assist in a Veteran's Day project.
McHale, who lives in Alsip, is a first year student at SXU. From 2012 to 2016, he was an active member of the military in the United States Marine Corps. During that time, he was deployed to the Middle East three times, and served as a squad leader. Now, he is the vice president of the SVA and continues his service through the registered student organization (RSO).
While he was still active, his mother, Pat McHale, entered him on an honoree list through the United Service Organizations (USO), a group that provides entertainment to members of the armed forces and their families. The USO selected McHale to visit United Center on October 31, accompanied by SVA president, Daniel McLaughlin, to watch the Blackhawks practice. They were also awarded with the exciting opportunity to meet right wing player, Patrick Kane. Although he was delighted to meet Kane, McHale's favorite player is still center Jonathan Toews, because of his determination.
"My favorite player is Jonathan Toews because of his grit and determination to follow through every time he is on the ice," said McHale.
As an avid Blackhawks fan, this was a dream come true for McHale. After the practice, he was asked to attend the Veteran's Day game on November 5, where he was honored for his service during the first intermission. It was then requested he participate in a commercial with the forward. McHale jumped at the chance, which promoted an auction for the special camouflage jerseys the Blackhawks wore and autographed. Bidding was held on the Blackhawks website, and went through November 7 to 19. All proceeds will go to the USO, to help fund events for veterans and their families.
Congratulations, Conor! Thank you for your continued service to SXU. We are proud and honored to have you as a student.
To view the commercial, visit the Chicago Blackhawks' website.
---