/
/
/
SXU's Muslim Student Association raise $4K for charity with basketball tournament
SXU's Muslim Student Association raise $4K for charity with basketball tournament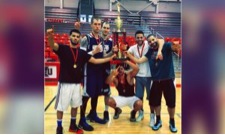 Saint Xavier University's (SXU) Muslim Student Association (MSA) recently held its fourth charity basketball tournament in an effort to promote awareness and raise money for Muslims Understanding and Helping Special Education Needs (MUHSEN). All seven of MSA's board members came together to host the event as part of their annual humanitarian project.
"The importance of this event lies in the fact that in many situations, people with special needs feel as if their struggles do not matter," said Aydah Nofal, sophomore and event coordinator for MSA. "Through this event, we wanted to shed some light on the fact that these people do matter, that they are worth a more accommodating life."
MUHSEN is an organization that works with disabled people and their families. It was founded by Omar Suleiman, who witnessed his mother and the neighborhood children struggle. MUHSEN's mission is to foster awareness and acceptance of people with disabilities, along with advocating for accessible buildings and spaces.
MSA made the decision to partner with MUHSEN because they wanted to promote acceptance and understanding of people with disabilities. Through the cost of admission, team registration, food and drink sales, and donations, MSA and MUHSEN raised $4,000, which will be used to aid in advocacy efforts and equipment needs.
For more information regarding MUHSEN, please visit their website.
---