SXU's Jaclyn Murawska featured on WGN and CLTV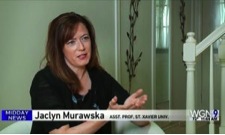 Saint Xavier University (SXU) prides itself on having faculty who uphold a passion for lifelong learning. One faculty member's story of lifelong learning started with helping her father reach his dream of being able to read and write at the age of 55. SXU's Dr. Jaclyn Murawska, assistant professor of mathematics, has been working to share her father'by Lee Lewis, were featured on the 5 p.m. broadcast of WGN and the 7:30 p.m. broadcast of CLTV on Thursday, Aug. 17. Additionally, the story was re-aired during the 11:30 a.m. broadcast of WGN on Friday, Aug. 18.
To read more about Alby's story, please read our story on him that was published earlier this spring.
---