/
/
/
SXU welcomes National Catholic Reporter Contributing Journalist Heidi Schlumpf
SXU welcomes National Catholic Reporter Contributing Journalist Heidi Schlumpf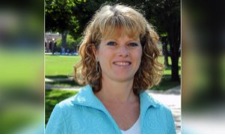 Where do you get your news and information about the Catholic Church? Learn how to stay up-to-date on the latest trends and influences in Catholic media at Saint Xavier University's (SXU) Catholic Colloquium Lecture Series on Thursday, October 5 from 6:30 to 8:30 p.m. in Warde Academic Center's Butler Reception Room. This event welcomes National Catholic Reporter contributing journalist Heidi Schlumpf to the spotlight to offer her insights into the ever-growing industry. SXU's Catholic Colloquium is free and open to the public.
In this program, Schlumpf will provide an overview on the state of Catholic media today - from the rise of the Catholic blogosphere, to the decline of many diocesan newspapers, to the publications she believe are most successful. In today's fast-changing media landscape when secular journalism is also under attack, Catholic media can serve as a model - and warning - about the importance of media in our lives.
Schlumpf has received multiple master's degrees in theology from Garrett-Evangelical Theological Seminary, Northwestern University and the University of Notre Dame. With almost three decades spent in religious journalism, Schlumpf was previously an editor for U.S. Catholic magazine and the Chicago archdiocesan newspaper. She and her family attend St. Gertrude Parish in Chicago.
The Catholic Colloquium lecture series is hosted by SXU's Office of Mission Integration and Mercy Heritage. This lecture series, inaugurated in 2006, honors the responsibilities of a Catholic university to serve its students, faculty, staff and the broader Catholic and civic communities by providing opportunities to examine contemporary civic, religious and social questions in the light of a vibrant, socially committed faith.
For more information, please visit Catholic Colloquium web page.
---