/
/
/
Network with employers at SXU's 2017 Fall Internship and Job Fair on October 20
Network with employers at SXU's 2017 Fall Internship and Job Fair on October 20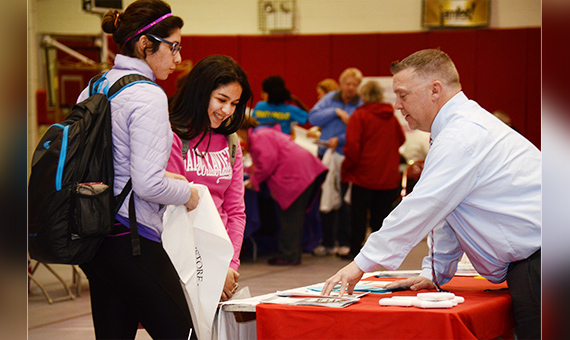 Seeking an internship, part-time or full-time job? Need help navigating the job market? Look no further than Saint Xavier University's (SXU) 2017 Fall Internship and Job Fair - your one-stop-shop for all your employment needs. The Fair is scheduled for Friday, October 20 from Noon to 3 p.m. in SXU's Shannon Center, located at the University's Chicago campus, 3700 W. 103rd Street. This event is free and open to the public!
Employers will recruit for full-time, part-time and internship positions in various industries. Attendees are advised to dress professionally and bring many copies of their resumes.
Companies that are expected to attend include the following: Access Community Health Network; Advocate Healthcare; ChildCare Careers; Cook County Health and Hospitals System; Cook County Sheriff's Department; Coyote Logistics; Dayton Freight Lines; Edward Jones; Illinois Department of Agriculture; Indian Oaks Academy; Jewel-Osco; Mercy Volunteer Corps; Misercordia Home; Mueller & Co., LLP; Saint Anthony Hospital; Strive Logistics; TCF Bank; Warrior Invictus; and White Lodging Services.
A full list of employers is available on the Career Services section of the website. The list of employers attending the fair will be updated on a weekly basis, so be sure to check often! For more information, please contact the Office of Career Services at 773-298-3131.
---