SXU's NSCS chapter earns Silver Star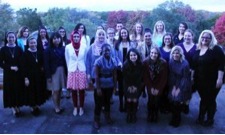 Students are a vital component of success at Saint Xavier University (SXU), through both academic engagement and extracurricular involvement. This is why it comes as no surprise that in May, SXU's chapter of the National Society of Collegiate Scholars (NSCS) was recognized with a Silver Star ranking. The classification was given following accomplishments of the registered student organization (RSO) for the 2016 to 2017 academic year.
With 330 chapters throughout the nation, the honor of receiving a Silver Star sets SXU aside from other universities. Chapters who achieve this title have shown a commitment to events on their campus and in their community. This past year, the NSCS chapter at SXU hosted captivating events, including an induction ceremony in October for its new members and their families, totaling 80 people. The engagement was the result of dedication from the executive board.
Officers from 2016 to 2017 consisted of the following:
Briana Gruen, president;
Giselle Villasenor, Executive vice president;
Hala Alsheikh, vice president of public relations;
Hana Tulemat, vice president of community service;
Lena Hassan, vice president of social media;
Elizabeth Keithley, vice president for events
Julia Bingham Wiester, Ph.D., faculty advisor;
SXU's NSCS chapter may be young, but the board members have high hopes and big plans. For the 2017 to 2018 academic year, the group hopes to host more events. Another goal is to have a positive impact. The chapter intends to accomplish this through increased community service, bridging the gap to academia and connecting with fellow RSOs.
Dr. Julia Wiester, assistant professor of chemistry and advisor to the NSCS chapter at SXU, was elated to learn the about the achievement.
"This is a great recognition for the NSCS chapter here at Saint Xavier," said Professor Wiester. "These officers have put in a lot of work to give new life to the student group. They reinstated the annual induction ceremony to great success and hold regular meetings to plan events. The Star status recognizes their hard work and determination to make the SXU NSCS chapter a productive and meaningful student group."
For more information on SXU's NSCS chapter, please visit their Facebook page. To learn about the NSCS, please visit their website.
---